»
Inmate Visiting Information
Inmate Visiting Information
Inmate Video Visitation
Onsite visitation is currently closed due to Covid-19.
The only inmate visitation is by remote video visitation please see link below.


The Washoe County Sheriff"s Office currently utilizes a state-of-the-art web visitation system known as iWebVisit.com Visitors are able to conduct remote video visitation from your home, office or remote location over the Internet. You may conduct a two way video visit with a general population inmate currently housed at the Washoe County Sheriff"s Office by using a computer equipped with high-speed Internet and a webcam.
The following are instructions on how to proceed:
Create your Inmate Video Visitation account at iWebVisit.com remotely.
Remote Web-Based Video Visitation is available to general population inmates.
General Population inmates are allowed up to 2, twenty-minute Remote Video Visits per Day, Monday through Friday from 8:30 am to 11:00 am and from 7:30 pm to 10:30 pm. Saturdays and Sundays from 8:30 am to 11:00 am and from 1:00 pm to 6:00 pm..
WCSO may limit or cancel jail video visits at its discretion.
Except for attorney and other confidential visitors, all video visitations are subject to monitoring and recording.

WCSO may terminate an inmate's privilege to have video visitation at its discretion and may also terminate an on-going video visitation due to security reasons such as lock downs or during periods when visitations are suspended.

Both WCSO and iWebVisit reserve the right to terminate a visitor's visiting access due to fraudulent activity, inappropriate behavior during a visit, or improper conduct toward staff.
Special Management Inmates:
Remote Web-Based Video Visitation is available to special management inmates as set forth below in the On-Site visitation chart. You must create an account at iWebVisit.com remotely.
 
Attorneys:
Attorneys are permitted to visit remotely with an inmate each day. The attorney must create an account at www.iwebvisit.com. The attorney must also obtain approval in person one time at the jail to obtain confidential status by providing photo identification and a state bar card. If the attorney fails to obtain the confidential status, all video visits will be recorded.
Rules and Restrictions:
Inmates are allowed visits based on their current housing status.
There are no visits for inmates who have not completed medical asessment.  This usually takes 3-4 days to complete.
On-site Inmate Visiting
Main Phone: (775) 328-2952
Technical Support: (775) 434-8748 or you can email iWebVisit at support@iwebvisit.com
NOTE: Inmate Visiting can be cancelled at any time.
We suggest you call before visiting.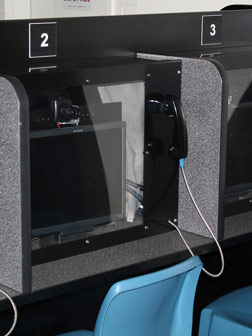 On-site video visiting:
Rules and Restrictions
Inmates are allowed one (1) non-contact video based personal visit per scheduled visiting day
Inmates are allowed visitors based on their status
No more than two (2) visitors may visit at a time
A child is counted as a visitor
All visitors over 18 years of age are required to have current and valid U.S. government-issued identification
Persons under 18 years of age must be accompanied by a legal guardian
Visits are 20 minutes
NO PERSONAL POSSESSIONS OF ANY KIND ARE ALLOWED IN THE VISITING AREA. THIS INCLUDES COATS, JACKETS, BABY CARRIERS, PICTURES AND CELL PHONES
Secure lockers are available in the lobby, free of charge.
Searchess:
Visitors may be subject to a personal search at any time. Visitors that refuse to be searched will be denied access. Possession of illegal substances, possession of concealed weapons, attempts to pass contraband, and defacing public areas will result in arrest.
Visitor's clothing must conform to proper dress standards.
No clothing of transparent, or see-through material
No bare midriffs
No bare feet
No "muscle" shirts and no "spaghetti" straps
Visitors must wear appropriate undergarments
Shorts and dresses must be mid-thigh length
Final determination will be made by detention facility personnel.
Anyone failing to comply with these rules will be denied access to visiting.
Visiting days and hours:
Inmates may receive visits upon being assigned to a Housing Unit.  Visiting schedule is based on the individual's Classification Status.
Status - General Population: Visiting Days are assigned by Last Name
| | | | | |
| --- | --- | --- | --- | --- |
| A-C | D-H | I-M | N-R | S-Z |
| Monday | Tuesday | Wednesday | Thursday | Friday |
| 7:30 pm - 10:30 pm | 7:30 pm - 10:30 pm | 7:30 pm - 10:30 pm | 7:30 pm - 10:30 pm | 7:30 pm - 10:30 pm |
Status - Special Housing: Units 3, 4, 15, 17 are limited to (1) one visit per week as assigned by their last name (see above).
Professional/Law Enforcement Visits
Monday - Friday
8:30 a.m. – 11:00 a.m.
1:00 p.m. – 6:00 p.m.