Washoe County Sheriff's Office
For Immediate Release
PR #:
2000068
Date Issued:
Jun 04, 2020 - 5:10pm

---

The Northern Nevada Cyber Center Internet Crimes Against Children Unit Offers Tips To Keep Your Kids Safe

CONTACT:
Sarah Johns
911 Parr Blvd
Reno, NV. 89512
Office: 775-785-6235
Cell: 775-391-0407
---
The Northern Nevada Cyber Center Internet Crimes Against Children Unit wants to remind our residents that cyber intrusions are becoming more commonplace, more dangerous, and more sophisticated.
Citizens are targeted by impostors and identity thieves, and children are targeted by online predators. As the Washoe County school year ends and we enter the summer months, our children have more time to spend online, texting, and on social media networks. As part of efforts to keep kids safe, the Sheriff's Office supports National Internet Safety Month during June.
"Adults need to stay involved in the digital world, know the apps kids are using, use parental controls where possible, and block and report individuals who may try to exploit them," Sergeant James Cox of the Sheriff's Cyber Crimes/ Internet Crimes Against Children (ICAC) Unit said. Go to www.cybertipline.com for more information or to report a crime. For more useful resources go to https://www.missingkids.org/NetSmartz.
Cyber safety tips for children & teens:
If they're not your friends in person they're not friends on social media.The number of

followers, friends etc. you have does not determine your coolness, it determines your likelihood of being a victim.

If you wouldn't show the photo to your family or your classmates, don't email, text or post it.

Do not give out personal details such as address or school information.

Turn off your webcam after using it so it cannot be hacked.
Cyber safety tips for parents:
If an application like a calculator is taking up 1GB of storage space...it's NOT just a calculator.

Know their passwords, monitor social media, don't let them have their phones in their room when they go to bed, make it so app purchases go through the parents account and must be approved by the parent.

Discuss the dangers of the internet and social media with your child and set ground rules to follow.

Charging station outside of child's room

Password list in public location

Parental Password on phone to prevent downloading apps

Privacy settings on apps: Snapchat - Turn off snap maps, Twitter – Turn off direct messaging (DM), Facebook – (three lines) settings & privacy, privacy shortcuts. Go to http//:www.connectsafely.org for a more detailed list.

Most Important—Follow your kids on social media and communicate with them about any issues you have.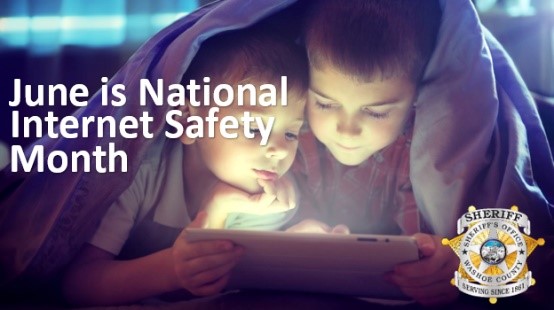 The Washoe County Sheriff's Office is dedicated to preserving a safe and secure community with professionalism, respect, integrity and the highest commitment to equality. Sheriff Darin Balaam is the 27th person elected to serve as the Sheriff of Washoe County since the Office was created in 1861. The Washoe County Sheriff's Office strives to ensure public safety by building trust and creating partnerships within the diverse communities in which we serve. We will promote the dignity of all people supported by our words and actions through open communication while fostering an environment of professionalism, integrity and mutual respect.
###