Washoe County Sheriff's Office
For Immediate Release
PR #:
2000002
Date Issued:
Jan 07, 2020 - 9:13am

---

Washoe County Sheriff Darin Balaam releases report on first year in office

CONTACT:
Bob Harmon
Washoe County Sheriff's Office
Office 775-785-6235
Cell 775-722-5517
---
Washoe County Sheriff Darin Balaam released the 2019 State of the Sheriff's Office today. The report reviews statistics from the Sheriff's first year in office and discusses some of the accomplishments, challenges, and initiatives undertaken by the men and women of the Washoe County Sheriff's Office in 2019.
"One year ago today I took an oath to serve as your Sheriff. At the time I made a commitment to do everything within my power to build a safer, cleaner, and healthier community," Sheriff Balaam said. "A great deal of hard work has gone into getting us where we are today and where we want to go in the coming years. I sincerely appreciate the men and women of this office, our partner agencies, and the public for their partnership in helping to provide the highest quality public safety services possible."
Highlights of the 2019 State of the Sheriff's Office include:
Formation of the Detention Services Unit to assist those seeking to transition from the Detention Facility to a successful life in the community;
Increased efforts to reduce domestic violence in Washoe County through the creation of a Domestic Violence Unit in our Detective Division;
Successes in efforts to combat the negative impacts of illegal dumping and abandoned vehicles in our communities and open spaces thanks to support from concerned citizens;
Closure of two cases that have been under investigation for more than thirty years thanks to advances in DNA technology and tenacious detective work by the Sheriff's Office Cold Case Unit; and
The suspect in multiple northern Nevada murders was apprehended and is awaiting trial thanks to a strong collaborative investigation involving numerous regional agencies.
"It is truly an honor to serve as Sheriff and I'm very proud of what we have been able to achieve for the benefit of this community," Sheriff Balaam said. "Looking to the year ahead, I plan to continue and increase these efforts. Already, the office has plans to open a unit within our detention facility specifically to address the needs of our nation's veterans who have become incarcerated.
"My office is also partnering with other local law enforcement agencies to regionalize resources that focus on reducing dangerous criminal activity such as violent crime, gangs, and human and sex trafficking.
"I am incredibly honored to serve as Sheriff of this great county, but I would not be able to do any of it without the men and women of the Sheriff's office and the support of our community," Sheriff Balaam added. "As we continue to move forward and set the tone for the next decade, the Washoe County Sheriff's Office will keep the focus on taking violent offenders and predators off our streets and maintaining the safety and security of our community."
Click HERE for the 2019 SOSO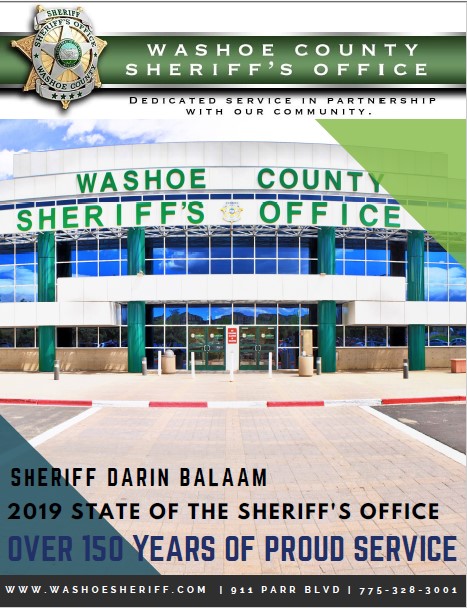 The Washoe County Sheriff's Office is dedicated to preserving a safe and secure community with professionalism, respect, integrity and the highest commitment to equality. Sheriff Darin Balaam is the 27th person elected to serve as the Sheriff of Washoe County since the Office was created in 1861. The Washoe County Sheriff's Office strives to ensure public safety by building trust and creating partnerships within the diverse communities in which we serve. We will promote the dignity of all people supported by our words and actions through open communication while fostering an environment of professionalism, integrity and mutual respect.
###