Washoe County Sheriff's Office
For Immediate Release
PR #:
1900082
Date Issued:
Aug 21, 2019 - 3:34pm

---

Women from the Washoe County Sheriff's Office detention facility will have a voice at International Overdose Awareness Day event thanks to local non-profits

CONTACT:
Bob Harmon
Washoe County Sheriff's Office
Office 775-785-6235
Cell 775-722-5517
---
Lisa Lee with the non-profit Foundation for Recovery felt it was important that women in the Washoe County Sheriff's Office Detention Facility have a voice at this year's International Overdose Awareness Day event in Reno.
Lee, who leads a peer recovery program with justice involved women called Recovery at Parr, asked if female inmates would be allowed to create paper flower tributes to loved ones lost to drug overdose. The foam flowers will be included in the Garden of Awareness planned for this year's event. Lee even offered to bring the supplies. Lee will work closely with the women while they create their messages of hope and remembrance. As a peer recovery expert, Lee is uniquely qualified to help the women navigate their individual loss and process of grief.
Detention Facility staff wholeheartedly agreed.
Working with Join Together Northern Nevada, Lee gathered enough supplies for roughly 200 flowers. On Thursday, Lee will bring the supplies to the Detention Facility where women have been invited to create flowers in recognition of loved ones.
The women will create these flowers between 1:00 p.m. and 3:00 p.m. in the Detention Facility's Programs Unit. Media are invited.
What: Women in the Washoe County Sheriff's Office Detention Facility create flowers International Overdose Awareness Day's "Garden of Remembrance"
When: Thursday, August 22, 2019 – 1:00 p.m. – 3:00 p.m.
Where: Programs Unit, Washoe County Detention Facility, 911 Parr Blvd., Reno
Contact: Bob Harmon (775) 722-5517
International Overdose Awareness Day is recognized around the world as a day to acknowledge individual loss and family grief for people who have suffered an overdose. Reno's event is scheduled for 5:30 p.m. on Thursday, August 29, 2019 at the BELIEVE sign in downtown. Participants will walk to Wingfield Park to plant the Garden of Awareness.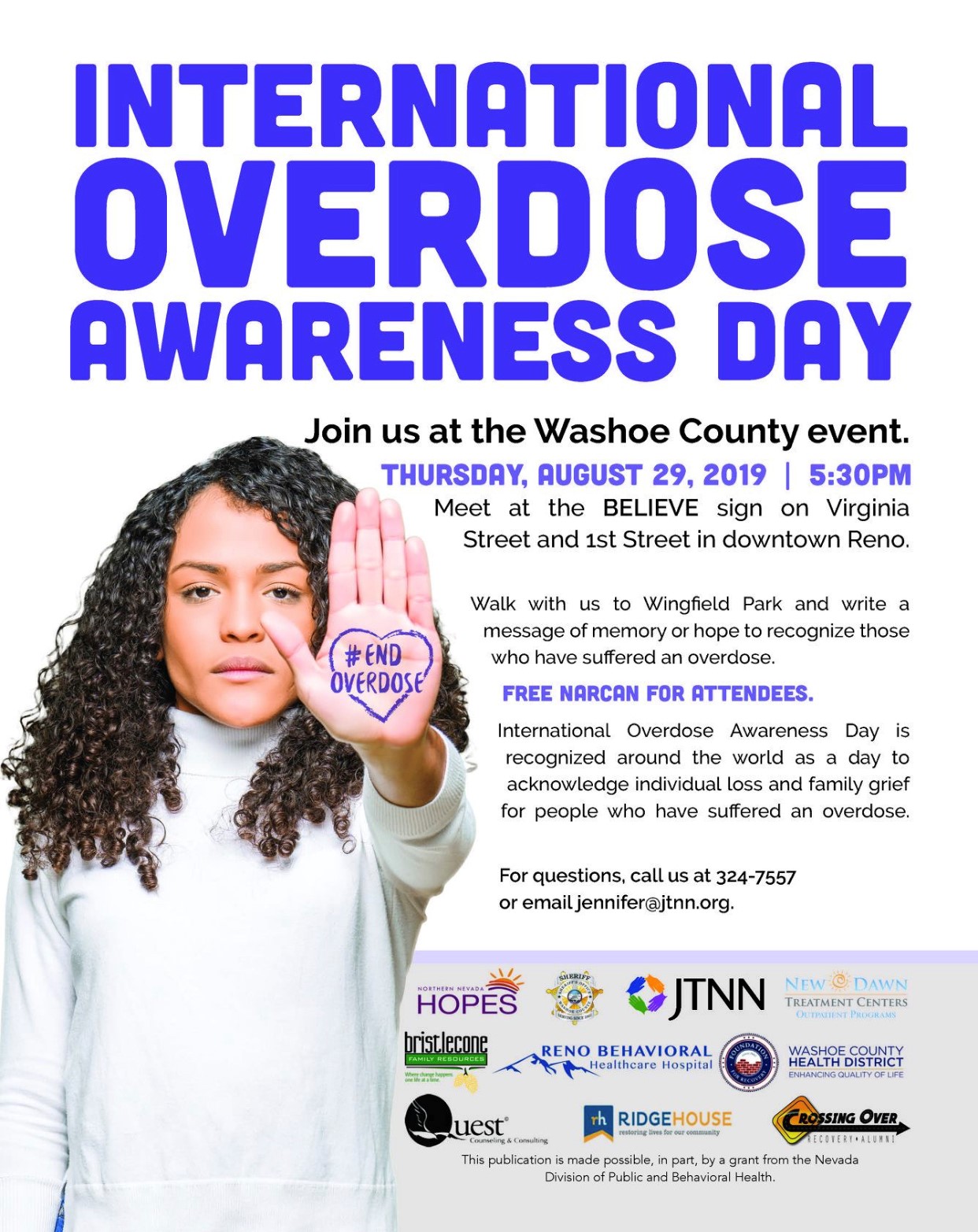 The Washoe County Sheriff's Office is dedicated to preserving a safe and secure community with professionalism, respect, integrity and the highest commitment to equality. Sheriff Darin Balaam is the 27th person elected to serve as the Sheriff of Washoe County since the Office was created in 1861. The Washoe County Sheriff's Office strives to ensure public safety by building trust and creating partnerships within the diverse communities in which we serve. We will promote the dignity of all people supported by our words and actions through open communication while fostering an environment of professionalism, integrity and mutual respect.
###