Washoe County Sheriff's Office
For Immediate Release
PR #:
1900013
Date Issued:
Feb 06, 2019 - 9:08am

---

New program at the Washoe County Sheriff's Office detention facility assists statewide efforts to reduce deaths from opioid overdoses

CONTACT:
Bob Harmon
Washoe County Sheriff's Office
Office 775-785-6235
Cell 775-722-5517
---
The Washoe County Sheriff's Office is stepping up efforts to help reduce opioid overdose deaths in Nevada by introducing a new program this week that provides overdose education and naloxone kits to selected inmates as they are released.
This program is supported by the Nevada State Opioid Targeted Response Grant.
In May of 2017, the State of Nevada Department of Health and Human Services, Division of Public and Behavioral Health received a federal grant, known as the Opioid State Targeted Response Grant from the federal Substance Abuse Mental Health Services Administration. The purpose of the grant is to expand access to treatment for individuals with opioid use disorder and to reduce opioid overdose related deaths through prevention and recovery services.
One of the primary goals of the grant funding is to reduce opioid overdose deaths by ensuring that people have access to naloxone, the opioid overdose reversal medication.
The Washoe County Sheriff's Office felt they could effectively support this effort by providing the naloxone kits and training to inmates determined to be potentially at-risk. This new program also supports the Sheriff's Office goal to reduce recidivism and increase public safety by attempting to treat some of the core causes of crime in our community.
"With this program we have an opportunity to help save lives along with the potential for reducing crime," Washoe County Sheriff Darin Balaam said. "Our goal is to continue to look for medically assisted treatments for the root causes of crime – mental health and drug abuse."
"We also know that recently released inmates are often at the highest danger of becoming the victim of an overdose. We want to do all we can to reduce that danger," Sheriff Balaam said.
Studies show that people who have been incarcerated and have a history of using opioid drugs, such as heroin, have a much higher rate of opioid overdoses than the general population. This and other important data has been used to build interest within the criminal justice community to address the opioid crisis through treatment and overdose prevention instead of solely through incarceration.
Dr. Stephanie Woodard, DHHS Senior Advisor on Behavioral Health for the Division of Public and Behavioral Health praises the Washoe County Sheriff's Office for taking an "innovative approach to improving public safety that can and will have a positive impact in Washoe County by increasing access to naloxone."
"Research has shown that overdose education and naloxone distribution can save lives," Dr. Woodard said. "The staff at the Washoe County Detention Center have stepped up to ensure inmates who may be at risk from overdose when they re-enter the community have access to naloxone as they are discharged. They should be applauded for taking steps to improve the health and wellbeing of inmates and our community."
According to statistics provided by the Division of Public and Behavioral Health, 401 individuals died of an opioid overdose in 2017 and the number of overdose deaths from heroin have increased from 19 in 2010 to 92 in 2017.
The Sheriff's Office thanks the University of Nevada, Reno Center for the Application of Substance Abuse Technologies (CASAT) for their assistance in facilitating this new program. For more information about CASAT, visit their website at casat.org.
In addition to the Detention Facility program, the Washoe County Sheriff's Office initiated an Overdose Prevention Program for its patrol deputies in November of 2017. Supported by a grant from the National Sheriff's Association, patrol deputies are equipped with Naloxone Hydrochloride (Narcan nasal spray) kits and provided training in their use. Washoe County Sheriff's Office deputies have already used Narcan as a life-saving measure twice since the program was introduced.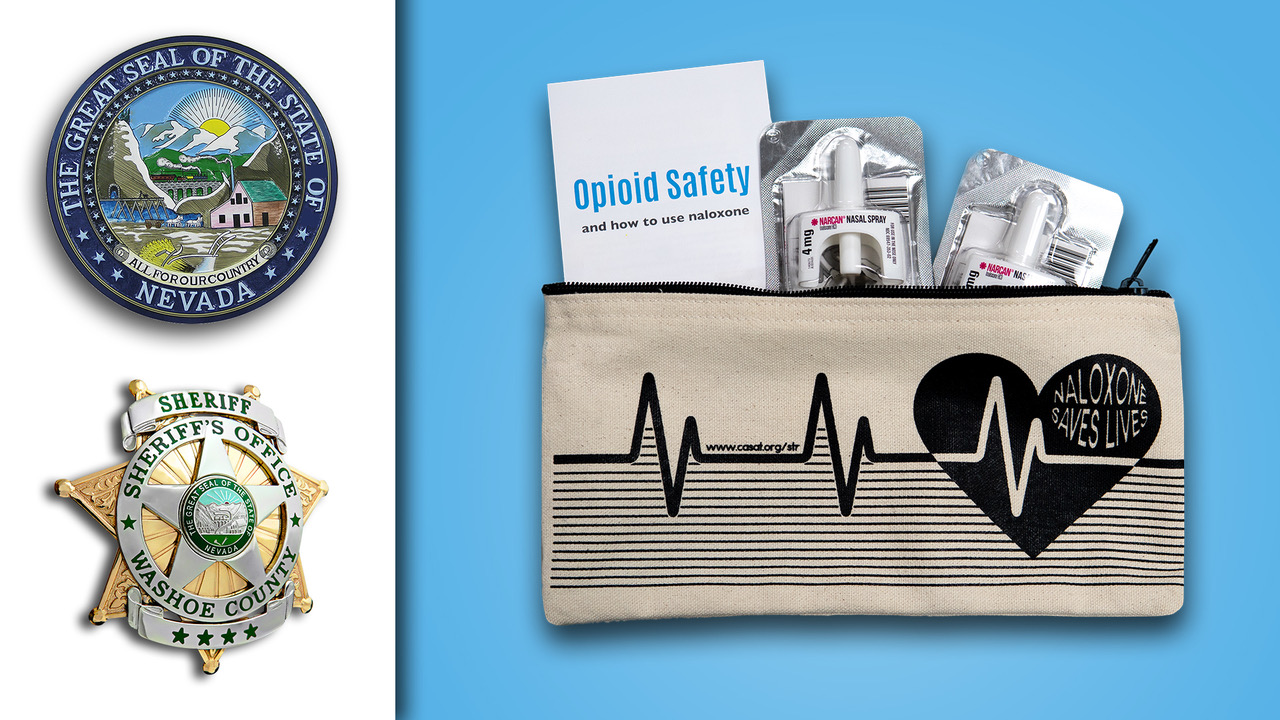 The Washoe County Sheriff's Office is dedicated to preserving a safe and secure community with professionalism, respect, integrity and the highest commitment to equality. Sheriff Darin Balaam is the 27th person elected to serve as the Sheriff of Washoe County since the Office was created in 1861. The Washoe County Sheriff's Office strives to ensure public safety by building trust and creating partnerships within the diverse communities in which we serve. We will promote the dignity of all people supported by our words and actions through open communication while fostering an environment of professionalism, integrity and mutual respect.
###