Washoe County Sheriff's Office
For Immediate Release

PR #:
1600029
Date Issued:
Apr 30, 2016 - 1:17pm

---

Reporting illegal dump sites is a snap thanks to the Washoe County Sheriff's Office App

CONTACT:
Bob Harmon
Washoe County Sheriff's Office
Office 775-785-6235
Cell 775-722-5517
---
Washoe County Sheriff Chuck Allen visited today's KTMB Great Truckee Meadows Community Cleanup to demonstrate a new feature on the WCSO App that allows for easy reporting of illegal dump sites.
"The best way we as a community can carry on with the fantastic work that hundreds of KTMB volunteers are doing today is by actively reporting illegal dump sites in the future," Sheriff Allen said.
Any junk, garbage or debris left on public property—including roadsides, open streets, and paved alleys is considered illegal dumping. Reporting these dump sites helps law enforcement identify problem areas and take measures to stop dumping. The more reports of illegal dump sites, the more resources can be dedicated to this problem.
"Illegal dump sites are hazards," said Christi Cakiroglu, Executive Director of KTMB. "They reduce property values and ruin our enjoyment of precious outdoor recreation areas. Please, report illegal dump sites. Help keep our open spaces clean and our community beautiful."
Reno Assistant City Manager Kate Thomas said that illegal dumping is a regional challenge that requires regional solutions.
"This new feature on the Sheriff's Office App is a great tool that allows anyone, from anywhere within the Truckee Meadows and surrounding areas, to easily report an illegal dump site and know that it will get referred to the appropriate agency - local, state or federal," Thomas said.
The WCSO App is available for free from the Itunes App Store and Google Play. With the WCSO App, reporting Illegal Dumping is a snap:
1. Use the WCSO App to take a photo and report the site.
2. WCSO staff will determine the jurisdiction and forward to the appropriate agency.
3. If in the WCSO jurisdiction, sheriff's staff will visit the site, conduct an investigation and forward to Patrol
for follow-up.
4. The dumpsite will be abated based on availability of resources.
5. The case will be prosecuted if a suspect has been positively identified and located.
Important! If you see Illegal dumping in progress:
Do call the non-emergency dispatch number (775) 785-WCSO to report (don't use the App)
Do not engage or approach illegal dumpers/stay safe
Do try to get any identifying information (license plate numbers, make and model of vehicles/appliances) so law enforcement can identify and apprehend offenders.
For information about alternatives to illegal dumping, visit the Keep Truckee Meadows Beautiful website at ktmb.org
Photo: Washoe County Sheriff Chuck Allen demonstrates the WCSO App's Illegal Dumping feature to (left to right) Reno Assistant City Manager Kate Thomas, KTMB Executive Director Christi Cakiroglu, and outdoor enthusiast Joe Dvorsky of the Hills Angels off road vehicle group during KTMB's Great Truckee Meadows Community Clean-up earlier today.
Attachment: Information card about the WCSO App's new Illegal Dump Site reporting feature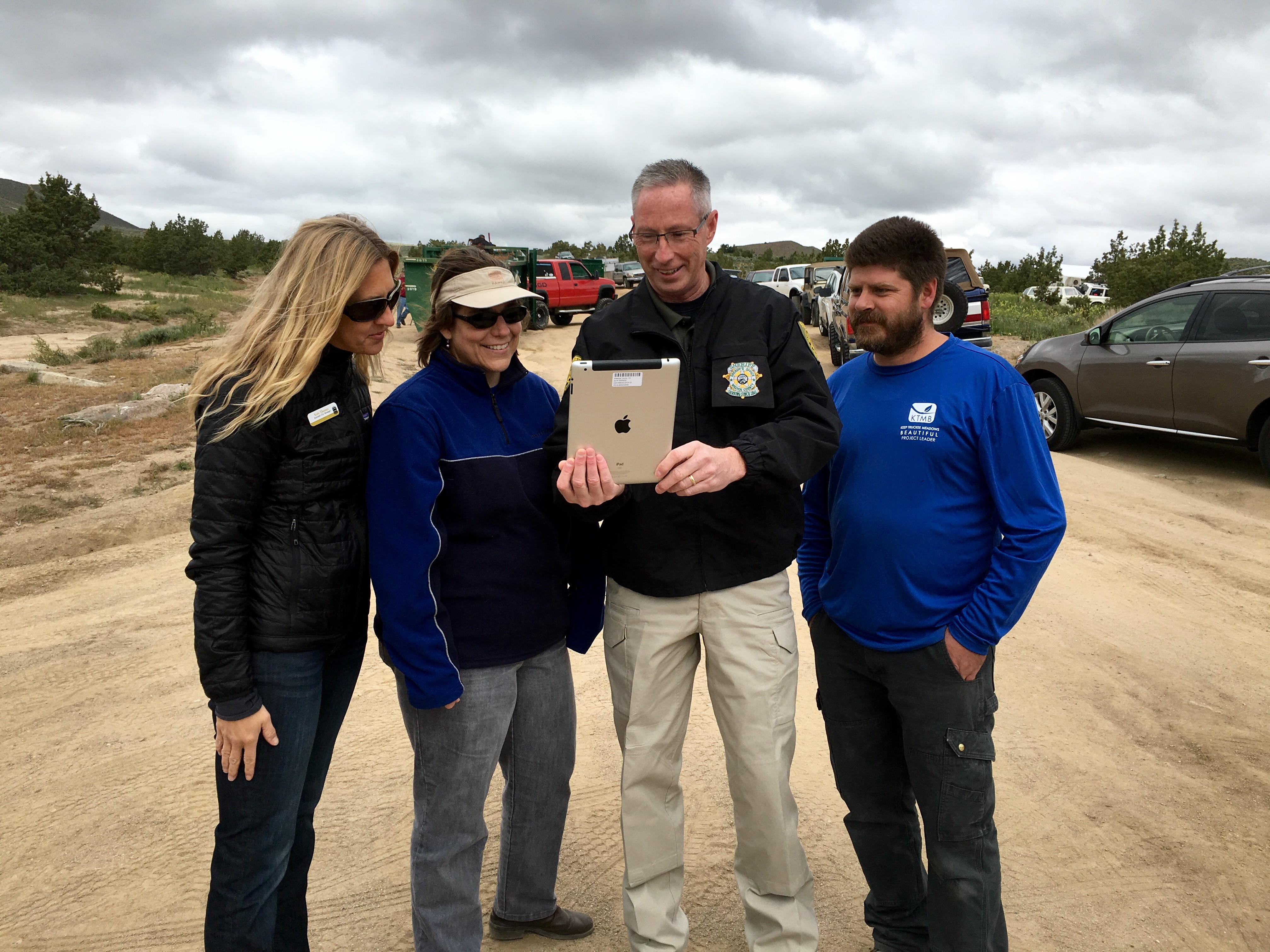 The Washoe County Sheriff's Office is dedicated to preserving a safe and secure community with professionalism, respect, integrity and the highest commitment to equality. Sheriff Darin Balaam is the 27th person elected to serve as the Sheriff of Washoe County since the Office was created in 1861. The Washoe County Sheriff's Office strives to ensure public safety by building trust and creating partnerships within the diverse communities in which we serve. We will promote the dignity of all people supported by our words and actions through open communication while fostering an environment of professionalism, integrity and mutual respect.
###
---

Attached pdf files...