»
The Washoe County Sheriff's Office grieves the passing of retired K9 Akim
Washoe County Sheriff's Office
PR #:
2023-0121-The-Washoe-County-Sheriffs-Office-grieves-the-passing-of-retired-K9-Akim
Date Issued:
Jan 21, 2023 - 12:21PM
For Immediate Release
The Washoe County Sheriff's Office grieves the passing of retired K9 Akim

For media inquiries contact:
Sgt. Kristin Vietti
Washoe County Sheriff's Office
Office: 775-328-6336
Cell: 775-895-0027
---
K9 Akim passed away with friends and family by his side at home yesterday. He will always be remembered for his "crazy" energy and soft-hearted disposition.
Sheriff Balaam expressed, "K9 Akim was loyal and courageous; his dedication to protecting our community will never be forgotten. We honor his service, and he will be greatly missed."
K9 Akim was born in Prague, Czech Republic, on August 17, 2010. He and handler Corey Solferino were paired together on January 23, 2012, at the prestigious Vohn Liche Kennels in Denver, Indiana. Akim was certified in patrol, narcotics, article detection, and tracking. K9 Akim and Corey worked together as part of the HIDTA task force until his promotion to Sergeant on August 3, 2015. Akim was able to enjoy many years of retirement with his family poolside in the backyard, under the covered patio, or chasing his brother and sister French Bulldogs around the block.
"To say he will be missed is an understatement. We will miss our Keemers indefinitely," shared Chief Deputy Corey Solferino and family.
The WCSO family extends heartfelt condolences to the Solferino family. Rest easy, K9 Akim.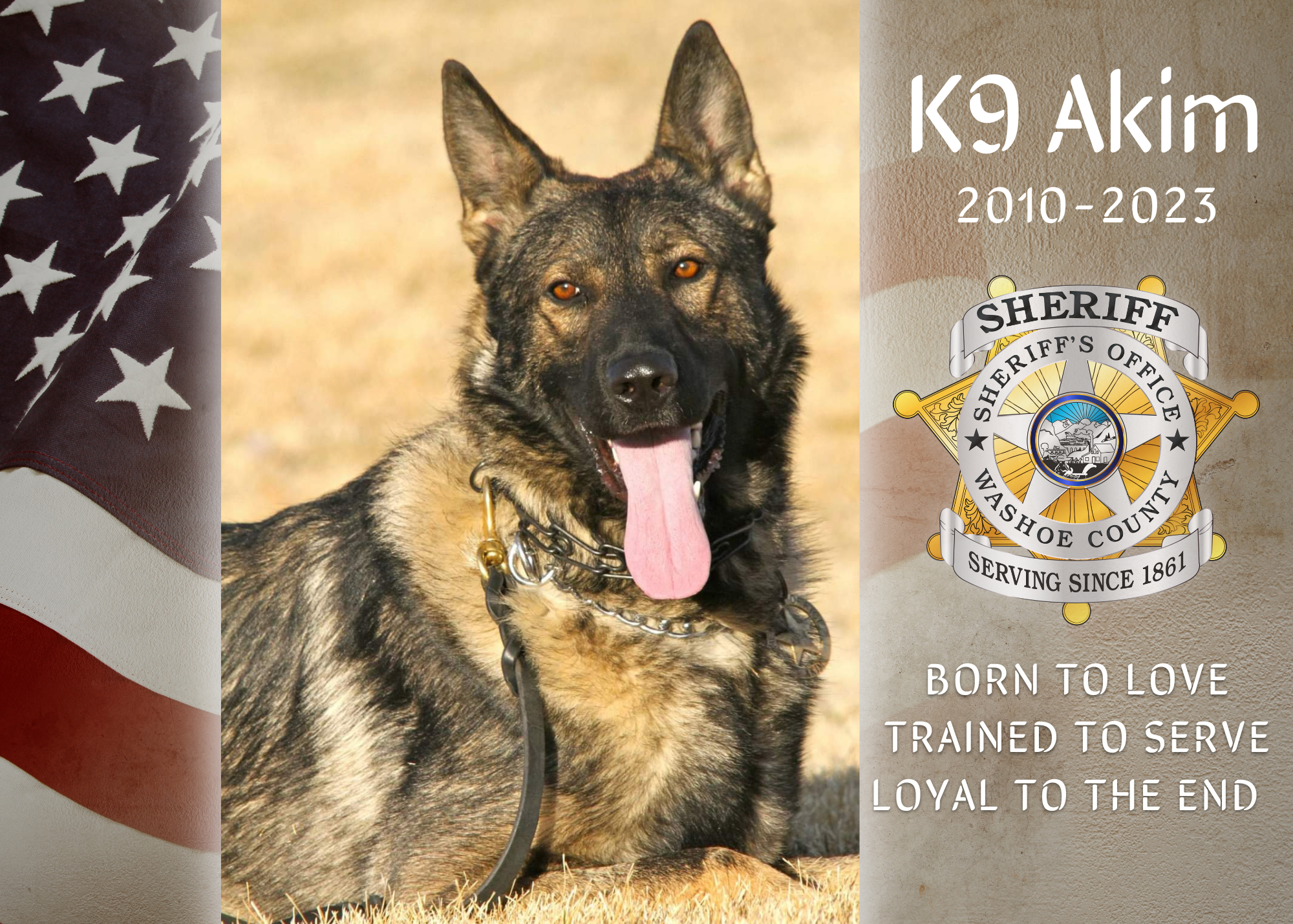 The Washoe County Sheriff's Office is dedicated to preserving a safe and secure community with professionalism, respect, integrity and the highest commitment to equality. Sheriff Darin Balaam is the 27th person elected to serve as the Sheriff of Washoe County since the Office was created in 1861. The Washoe County Sheriff's Office strives to ensure public safety by building trust and creating partnerships within the diverse communities in which we serve. We will promote the dignity of all people supported by our words and actions through open communication while fostering an environment of professionalism, integrity and mutual respect.
###