»
Washoe County Sheriff's Office announces catalytic converter theft deterrent program
Washoe County Sheriff's Office
Date Issued:
Jun 07, 2022 - 6:54AM
For Immediate Release
Washoe County Sheriff's Office announces catalytic converter theft deterrent program

For media inquiries contact:
Sergeant Jeff McCaskill
Washoe County Sheriff's Office
Office: (775) 328-6235
Cell: (775) 484-9821
---
Sheriff Balaam is proud to announce the implementation of a new catalytic converter anti-theft program at the Washoe County Sheriff's Office.  The intention of this program is to deter and discourage the theft of catalytic converters through community involvement and high visibility recognition of catalytic converters.  The program is designed to be a deterrent for would be thieves by marking your valuable property to make it identifiable and less likely to be re-sold for cash.
Locally, theft of catalytic converters is on the rise.  The Washoe County Sheriff's Office has seen a 270% increase in this type of theft since 2021.  While thieves may make a couple of dollars re-selling a stolen catalytic converter, the victims must pay exponentially more.  The average financial cost to replace a catalytic converter after it has been stolen from a vehicle is approximately $1,800 on average (depending on the vehicle).  In addition, due to reduced supply issues, some replacement catalytic converters are not available.  Most stolen catalytic converters from Washoe County go out of state to be turned in for money at metal recycling facilities.
The Washoe County Sheriff's Office has implemented a plan to curb catalytic converter theft in Washoe County.  Beginning today, residents can go online to www.WashoeSheriff.com to request a personalized catalytic converter identification kit for their vehicle(s). The information you need to obtain the kit is simple: your name, contact information and vehicle information (year make model and VIN). Complete the questions on the website then submit your application electronically to the Sheriff's Office.  Your personalized catalytic converter marking kit will then be mailed to you.
When your anti-theft kit arrives in the mail it will contain a personalized sticker with the VIN from your vehicle(s).  It will also include instructions for you to apply the personalized sticker yourself or a list of selected automotive shops who will complete the installation for you, free of charge.
While this initiative won't prevent your catalytic converter from being stolen, it may deter a thief from taking your property.  This is a free service from the Washoe County Sheriff's Office, available to all citizens of Washoe County.  Special thanks to The Washoe County Honorary Deputy Association for the initial funding to make this program possible.
For more details, go to www.WashoeSheriff.com and click on the 'Apply for Catalytic Program' button or call 775-328-3020.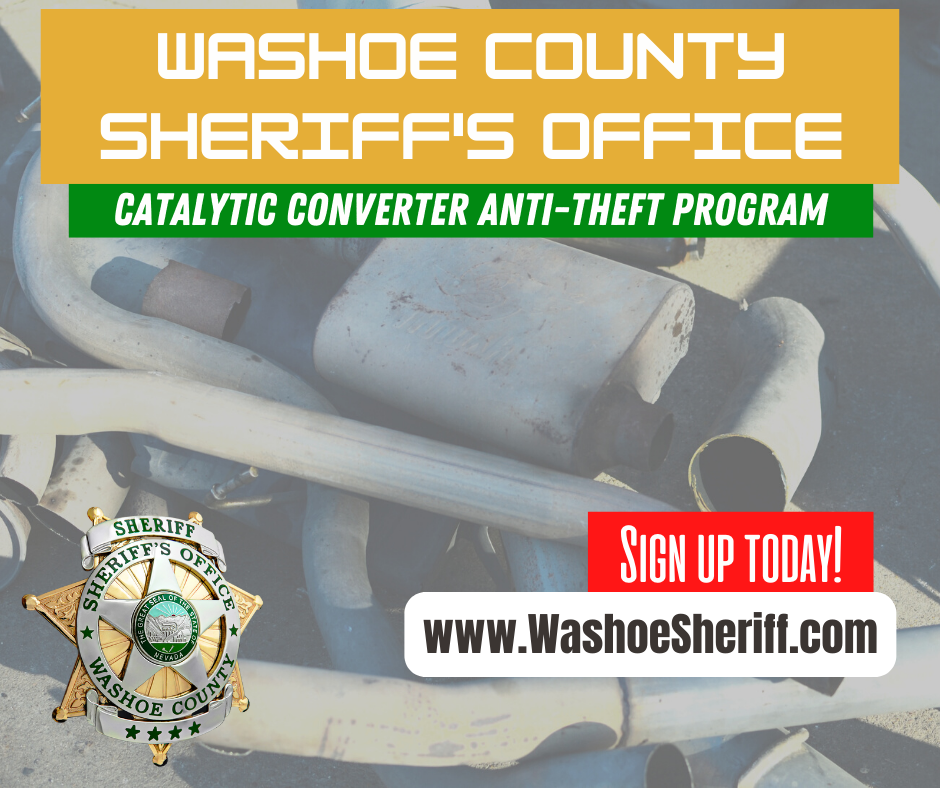 The Washoe County Sheriff's Office is dedicated to preserving a safe and secure community with professionalism, respect, integrity and the highest commitment to equality. Sheriff Darin Balaam is the 27th person elected to serve as the Sheriff of Washoe County since the Office was created in 1861. The Washoe County Sheriff's Office strives to ensure public safety by building trust and creating partnerships within the diverse communities in which we serve. We will promote the dignity of all people supported by our words and actions through open communication while fostering an environment of professionalism, integrity and mutual respect.
###