»
Washoe County Sheriff's Office deputies are Joining Forces to prevent distracted driving
Washoe County Sheriff's Office
Date Issued:
Apr 01, 2022 - 8:00AM
For Immediate Release
Washoe County Sheriff's Office deputies are Joining Forces to prevent distracted driving

For media inquiries contact:
Sergeant Jeff McCaskill
Washoe County Sheriff's Office
Office: (775) 328-6235
Cell: (775) 484-9821
---
As part of ongoing statewide efforts to reduce easily avoidable crashes and tragedies on Nevada's roadways, the Washoe County Sheriff's Office is Joining Forces with other Nevada law enforcement agencies to heighten enforcement, and awareness, of the state's distracted driving laws.  
From April 1st – April 11th, 2022, the Sheriff's Office will dedicate extra deputies to specifically look for distracted drivers.
In Nevada, using a cell phone or other electronic device is banned while driving, even while stopped at a stop light. Using a handheld device while operating a motor vehicle increases crash risk.
Sending or reading a text takes your eyes off the road for five seconds. At 55 miles per hour, that's like driving the length of a football field with your eyes closed.
According to the National Highway Traffic Safety Administration, distracted driving is any activity that could divert attention from the primary task of driving. There are three main types of distraction:
Visual – taking your eyes off the road
Manual – taking your hands off the wheel
Cognitive – taking your mind off what you're doing
Funding for these extra patrols is made possible by a Joining Forces grant received from the Nevada Department of Public Safety/Office of Traffic Safety. Joining Forces is a multi-jurisdictional law enforcement program aimed at reducing injuries and crashes through statewide enforcement in the areas of: DUI, speed, distracted driving, seat belt and pedestrian safety. The goal of these enforcement campaigns is to save lives by increasing public awareness about the dangers of making poor choices while driving.
For more information about Nevada's distracted driving laws, visit the state's Zero Fatalities website at: http://www.zerofatalitiesnv.com/focus-on-the-road/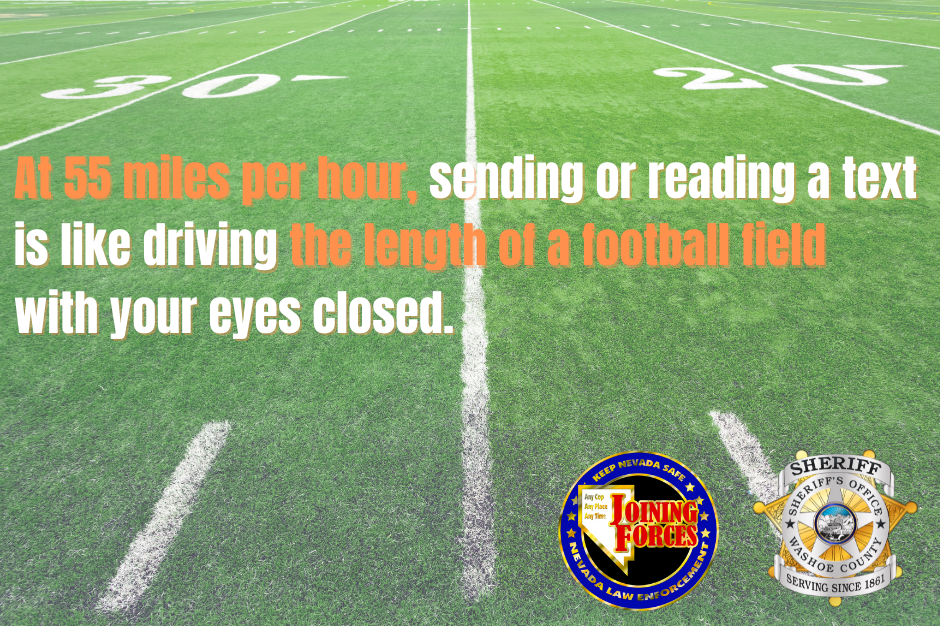 The Washoe County Sheriff's Office is dedicated to preserving a safe and secure community with professionalism, respect, integrity and the highest commitment to equality. Sheriff Darin Balaam is the 27th person elected to serve as the Sheriff of Washoe County since the Office was created in 1861. The Washoe County Sheriff's Office strives to ensure public safety by building trust and creating partnerships within the diverse communities in which we serve. We will promote the dignity of all people supported by our words and actions through open communication while fostering an environment of professionalism, integrity and mutual respect.
###