»
Washoe County Sheriff's Office deputies rescue couple from frigid Lake Tahoe
For Immediate Release
PR #:
2000076
Date Issued:
Jun 19, 2020 - 11:47am

---

Washoe County Sheriff's Office deputies rescue couple from frigid Lake Tahoe

CONTACT:
Sarah Johns
911 Parr Blvd
Reno, NV. 89512
Office: 775-785-6235
Cell: 775-391-0407
---
Washoe County Sheriff Darin Balaam is reminding outdoor enthusiasts about water safety ahead of this beautiful weekend, after a couple was rescued from the frigid waters of Lake Tahoe Thursday, June 18, 2020.
Deputies aboard Marine 9 were patrolling just northwest of Thunderbird Lodge at around 3:00 p.m. yesterday when they noticed a number of items, including paddles and shoes, floating on the lake.
Deputies came upon an adult female and male clinging to a deflated raft approximately 20 feet from shore. Neither were wearing personal floatation devices (PFDs), nor were they dressed appropriately for cold water immersion.
The couple was rescued from the water onto Marine 9. The two reported they had struggled in the water for approximately 20 minutes.
Both refused medical treatment.
With Lake Tahoe's water temperature hovering around 50° Fahrenheit, Sheriff Balaam warns anyone heading out this weekend to know the dangers of cold water.
"The best way for anyone to stay safe while swimming or recreating in Lake Tahoe is to wear a life jacket," says Sheriff Balaam. "Cold water shock is real and can occur suddenly and unexpectedly."
An average of seven people die in the cold Lake Tahoe water each year, according to published reports.
For more than 20 years, the Washoe County Sheriff's office has been patrolling the waters of Lake Tahoe from the California State Line to the Carson City line. Marine 9 is a Titan Pilot, T-280 RHIB (Rigid Hull Inflatable Boat) Vessel. The 28-foot vessel is equipped with the latest radar, sonar, and navigational technology by RayMarine, and is also equipped with Forward Looking InfraRed (FLIR), a video system, and a SirenMarine early warning system which notifies emergency operators of a variety of systems failures. Marine 9 is powered by twin 300HP Mercury Verado engines with a top speed of more than 50 MPH.
Marine 9 is crewed and operated by commissioned deputy sheriffs. The vessel was purchased in partnership with the community and with drug forfeiture funds.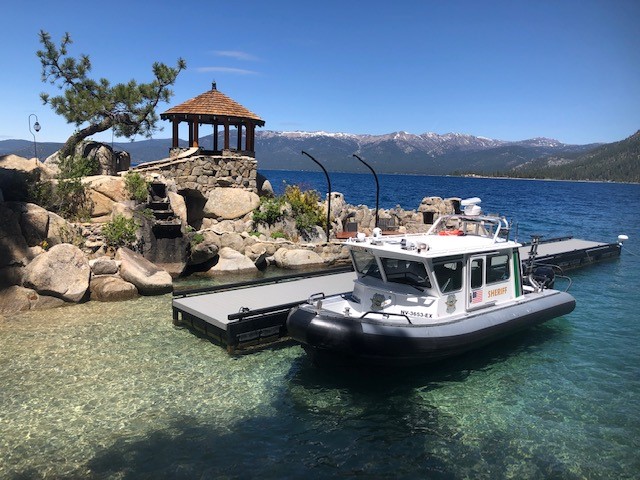 The Washoe County Sheriff's Office is dedicated to preserving a safe and secure community with professionalism, respect, integrity and the highest commitment to equality. Sheriff Darin Balaam is the 27th person elected to serve as the Sheriff of Washoe County since the Office was created in 1861. The Washoe County Sheriff's Office strives to ensure public safety by building trust and creating partnerships within the diverse communities in which we serve. We will promote the dignity of all people supported by our words and actions through open communication while fostering an environment of professionalism, integrity and mutual respect.
###