»
Suspect in custody as investigations of homicides in Washoe and Douglas Counties continue
For Immediate Release
PR #:
1900009
Date Issued:
Jan 20, 2019 - 2:22pm

---

Suspect in custody as investigations of homicides in Washoe and Douglas Counties continue

CONTACT:
Bob Harmon
Washoe County Sheriff's Office
Office 775-785-6235
Cell 775-722-5517
---
Washoe County Sheriff Darin Balaam was joined by Douglas County Sheriff Dan Coverley, Carson City Sheriff Ken Furlong, Washoe County District Attorney Chris Hicks, and Douglas County District Attorney Mark Jackson at a briefing earlier today to update the community about ongoing homicide investigations in Washoe County and Douglas County. Family members representing all the victims also attended.
Below is the text of Sheriff Balaam's remarks, the complete press conference is available on the Washoe County Sheriff's Office Facebook page.
Photo: Wilbur Ernesto Martinez-Guzman (courtesy Carson City Sheriff's Office)
Sheriff Balaam's remarks:
GOOD AFTERNOON, I'M WASHOE COUNTY SHERIFF DARIN BALAAM. THANK YOU ONCE AGAIN FOR JOINING US THIS AFTERNOON FOR AN IMPORTANT UPDATE ON THE WASHOE COUNTY AND DOUGLAS COUNTY HOMICIDE INVESTIGATIONS.
THREE DAYS AGO, YOUR LAW ENFORCEMENT AGENCIES MADE A COMMITMENT THAT - AS THESE HOMICIDE INVESTIGATIONS PROGRESSED - OUR HIGHEST PRIORITY WAS THE SAFETY OF OUR COMMUNITIES, AND BRINGING THOSE RESPONSIBLE FOR THESE CRIMES TO JUSTICE.
TODAY, I AM PLEASED TO TELL YOU THAT WE HAVE A SUSPECT IN CUSTODY.
I WANT TO STRESS THAT WE ARE STILL IN THE MIDDLE OF THE INVESTIGATION SO WE WILL BE LIMITED IN WHAT INFORMATION WE CAN RELEASE AT THIS TIME - HOWEVER, WE FELT IT WAS IMPORTANT FOR THE PUBLIC TO KNOW THAT WE ARE CONFIDENT WE HAVE THE PERSON RESPONSIBLE FOR THE LA GUARDIA LANE HOMICIDES AS WELL AS THE HOMICIDES IN DOUGLAS COUNTY. THE INFORMATION WE HAVE NOW INDICATES THERE ARE NO OUTSTANDING SUSPECTS AT THIS TIME, BUT THE INVESTIGATION IT STILL ON GOING.
WILBER ERNESTO MARTINEZ-GUZMAN, A NINETEEN-YEAR-OLD MALE CURRENLTY LIVING IN CARSON CITY WAS TAKEN INTO CUSTODY BY THE CARSON CITY SHERIFF'S OFFICE AT APPROXIMATELY 4:30 P.M. YESTERDAY AFTERNOON.
HE IS CURRENTLY BEING HELD IN THE CARSON CITY DENTENTION FACILITY ON CHARGES RELATED TO POSSESSION OF STOLEN PROPERTY AS WELL AS IMMIGRATION CHARGES.
AS I MENTIONED EARLIER, AT THIS STAGE IN THE INVESTIGATION WE FEEL CONFIDENT WE HAVE EVIDENCE THAT WILL LINK HIM TO ALL FOUR HOMICIDES.
JOINING ME TODAY IS THE LEAD DETECTIVE FROM WASHOE COUNTY, DETECTIVE STEPHANIE BRADY, ALONG WITH DOUGLAS COUNTY DETECTIVES BRANDON WILLIAMSON AND RYAN YOUNG.
SHERIFF DAN COVERLEY OF DOUGLAS COUNTY WILL TALK ABOUT THEIR INVESTIGATION…
SHERIFF KEN FURLONG OF CARSON CITY WHO WILL DISCUSS YESTERDAY'S EVENTS LEADING UP TO THE ARREST.
WE ARE ALSO JOINED BY WASHOE COUNTY DISTRICT ATTORNEY CHRIS HICKS AND DOUGLAS COUNTY DISTRICT ATTORNEY MARC JACKSON, THEY WILL TALK ABOUT HOW THE PROSECUTION WILL MOVE FORWARD FROM HERE IN THIS CASE.
MOST IMPORTANTLY, WE ARE JOINED TODAY BY MEMBERS OF THE DAVID, KOONTZ AND RENKEN/HOOYERINK FAMILIES.
WE ARE HONORED TO HAVE YOU HERE TODAY. WE CANNOT IMAGINE THE PAIN YOU ARE GOING THROUGH AND WANT YOU TO KNOW THAT YOU AND YOUR FAMILIES ARE IN OUR THOUGHTS AND PRAYERS. WE HOPE THAT THIS WEEKEND'S EVENTS HELPS YOU AS YOU ATTEMPT TO COPE WITH THESE SENSELESS CRIMES.
BEFORE I HAND THE MICROPHONE OVER TO SHERIFF COVERLEY - I WANT TO EXPRESS MY DEEPEST GRATITUDE TO ALL THE LAW ENFORCMENT PERSONNEL AND SUPPORT STAFF WHO HAVE PUT IN COUNTLESS HOURS OF WORK OVER THE PAST FEW DAYS ON THIS CASE.
WE SAID FROM BEGINNING THIS WAS LAW ENFORCEMENTS TOP PRIORITY AND WE CAME TOGETHER AND PEFORMED IN A MANNER IN WHICH OUR COMMUNITIES SHOULD BE PROUD OF.
INVESTIGATORS, PATROL, FORENSIC SCIENCE, VOLUNTEERS, DISPATCH - ALL LOCAL, STATE, AND FEDERAL LAW ENFORCEMENT AGENCIES CAME TOGETHER, AND WORKED TIRELESSLY TO GET US TO WHERE WE ARE IN THIS INVESTIGATION.
I CANNOT THANK THEM ENOUGH.
I WOULD ALSO LIKE TO THANK THE COMMUNITY FOR YOUR SUPPORT, YOUR TIPS, AND YOUR PATIENCE DURING THE PAST FEW DAYS.
I'D ALSO LIKE TO INTRODUCE SOME OF THE OTHER AGENCIES HERE TODAY. AGAIN, WITHOUT THEIR INVALUABLE ASSISTANCE WE WOULD NOT BE WHERE WE ARE NOW: RENO POLICE CHIEF JASON SOTO AND, ASSISTANT SPECIAL AGENT IN CHARGE MICHAEL HICKOCK FROM THE FBI.
AS I'VE SAID, WE CAN'T THANK THEM ENOUGH FOR THEIR COMMITMENT TO THIS INVESTIGATION AND OUR COMMUNITY.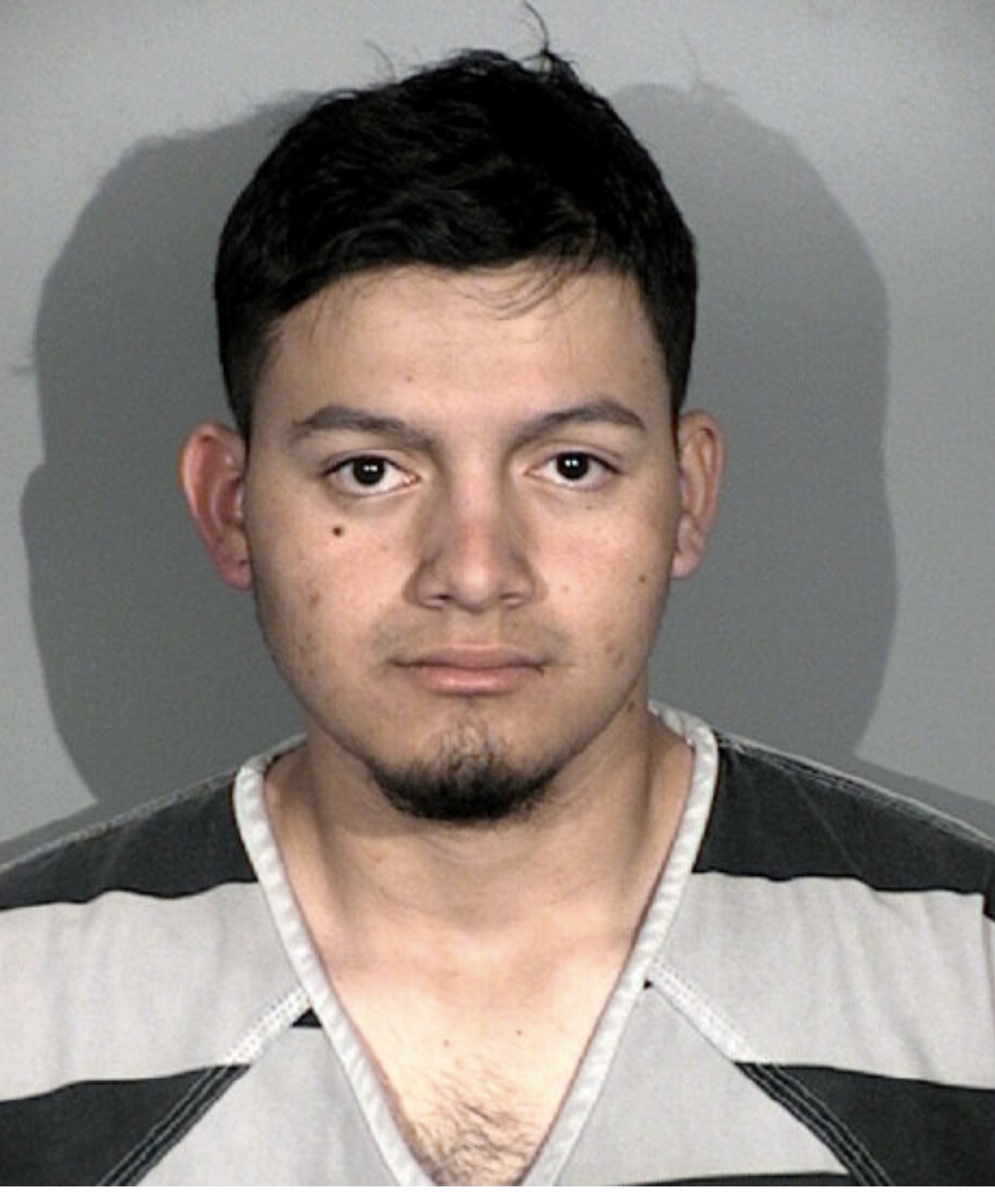 The Washoe County Sheriff's Office is dedicated to preserving a safe and secure community with professionalism, respect, integrity and the highest commitment to equality. Sheriff Darin Balaam is the 27th person elected to serve as the Sheriff of Washoe County since the Office was created in 1861. The Washoe County Sheriff's Office strives to ensure public safety by building trust and creating partnerships within the diverse communities in which we serve. We will promote the dignity of all people supported by our words and actions through open communication while fostering an environment of professionalism, integrity and mutual respect.
###