»
Military Vet's Service Dog receives free microchip number 5,000 from Washoe County Regional Animal Services
For Immediate Release
PR #:
1300081
Date Issued:
Jul 26, 2013 - 6:01pm

---

Military Vet's Service Dog receives free microchip number 5,000 from Washoe County Regional Animal Services

CONTACT:
---
When the Sherrill Family of Sparks brought their rescued Labrador Mix Kyy into Washoe County Regional Animal Services for a dog license earlier today, they had no idea they would be setting a significant, and spectacular milestone for Animal Service's year-long campaign to provide free microchips for 5,000 Washoe County pets.
They were number 5,000.
"We had set 5,000 as our goal for the entire twelve-months," Washoe County Regional Animal Services Director Barry Brode said about the campaign which began at the end of January. "We reached it in half that time. The phenomenal response to this campaign shows that we live in a community that truly cares about our pets."
"This is a fantastic program," Thomas Sherrill said. Sherrill is a disabled U.S. Military Veteran who is using Kyy as service dog.
"My wife rescued Kyy and he is a valuable supporter for me," Sherrill said. "Kyy is awesome and so is this program. Keep up the good work."
Brode thanked Animal Services staff and volunteers from the Animal Rescue Team for their enthusiastic commitment to the campaign so far.
"The good news is that we still have six months to go," Brode said. "It's looking like we can potentially double our original goal and that is truly a good thing."
Free microchipping is available from the Regional Animal Services facility on Longley Lane between the hours of 10:00 a.m. to 4:00 p.m. Monday through Friday (excluding holidays) through the end of January 2014.
For more information, visit WashoeAnimals.com.
Photo: Washoe County Regional Animal Service Directory Barry Brode with Rose, Thomas and Michael Sherrill (left to right) of Sparks and the Sherrill's Labrodor mix Kyy who received the 5,000th pet to benefit from Regional Animal Services year-long free microchipping campaign.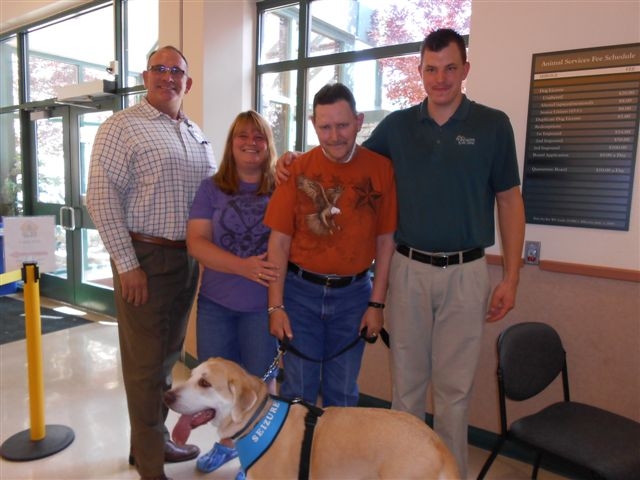 The Washoe County Sheriff's Office is dedicated to preserving a safe and secure community with professionalism, respect, integrity and the highest commitment to equality. Sheriff Darin Balaam is the 27th person elected to serve as the Sheriff of Washoe County since the Office was created in 1861. The Washoe County Sheriff's Office strives to ensure public safety by building trust and creating partnerships within the diverse communities in which we serve. We will promote the dignity of all people supported by our words and actions through open communication while fostering an environment of professionalism, integrity and mutual respect.
###