»
Forensic Investigation Section
Forensic Investigation Section
Renee Armstrong, Supervising Criminalist 
Main Phone: (775) 328-2824
rarmstrong@washoecounty.us
Crime Scene Processing
The Forensic Investigation Section is staffed by six full-time investigators. The investigators respond to the following:
Homicide
Attempted homicide
Officer involved shootings
Questionable deaths with detective on scene
Kidnapping
Child abuse
Sexual assault with substantial bodily injury or unknown suspect
Battery with a deadly weapon with substantial bodily injury
Armed robbery with substantial bodily injury
Bank robbery with substantial bodily injury
Robbery, strong armed, with substantial bodily injury
Fatal traffic accidents when vehicular homicide is suspected
Homicide autopsy
They do not respond to non-major crimes such as burglary, recovered stolen vehicle, evidence collection from officer at hospital, consensual sexual cases, single vehicle fatalities or to collect a piece of evidence in the absence of a CSI officer.
Processing a crime scene may include the following areas: documentation through still or video photography,  collection, and preservation of evidence; latent fingerprint processing; Alternate Light Source (ALS) examinations; shoe, tire, and tool impression casting; crime scene rough sketches that are digitized for court presention diagrams;  and many others. The FIS Investigators are regularly and continuously trained in these areas, assuring a competent and thorough investigation.
Should you have a vehicle which requires processing, FIS has two equipped garage bays available, one of which is over-sized for campers, motorhomes, etc. The equipment available includes a car hoist, super glue tenting materials, trace evidence vacuums, packaging materials, and other necessary items.
The FIS is available 24 hours a day, seven days a week. Any requests for services outside of the Washoe County area must be directed to the FIS Supervisor. Several crime scene vehicles are fully equipped and ready to respond.
Latent Print Processing
In addition to fingerprint processing at crime scenes, FIS also offers laboratory fingerprint processing of evidence collected and submitted by user agencies.
Latent Print Development:
While on scene, investigators utilize fingerprint powders, however more advanced fingerprint techniques can be utilized within the laboratory setting.  Advanced examination procedures used in the laboratory may increase the chances of finding fingerprints on individual items. The most commonly used method within the laboratory is Cyanoacrylate Ester Fuming or more commonly known as Super Glue Fuming.
Please Note: The procedures used in the latent print processing may permanently damage or contaminate the evidence submitted for examination. The owner of the evidence should be made aware of this fact prior to submitting it to the laboratory. In addition, if the evidence submitted is a hard, non-porous item, and you are requesting that it be "Superglued," the "SUPERGLUE YES___ NO___" section on the Examination Request Form must be checked "YES."  If neither section has been checked, the item(s) WILL NOT be "Superglued".  For further information regarding the "Superglue," or any other process, please feel free to contact an FIS Investigator at 775-328-2800.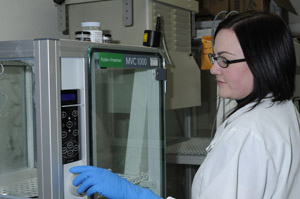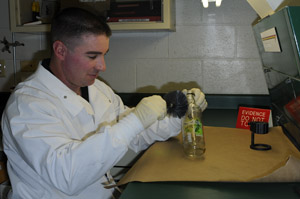 Submission Of Evidence For Latent Print Processing
DO NOT process the item yourself prior to the submission.
Proper packaging of evidence will greatly enhance the probability of finding latent prints of value on the submitted item of evidence.  As moisture will destroy fingerprints, please package the evidence in paper bags, envelopes or boxes, and in a manner which will reduce the possibility that fingerprints may be lost during transporation to the FSD. If you are sending numerous items, package each one separately so that they do not rub against each other or against the packaging material itself. Also, the items should not be allowed to roll back and forth, or become stuck to the inside of the package. If you are sending items such as "empty" beverage containers, be sure they are completely empty before packaging.  It only takes a small amount of liquid to destroy good fingerprints. If the liquid inside the container is evidence in your case, please take a separate sample from the container and submit it in another package. In addition, if the evidence you are submitting is very fragile, such as a fingerprint in blood on an item, it would be wise to photograph it, with and without a scale, prior to submission. Your good judgment may make the difference between finding prints of value and finding nothing at all.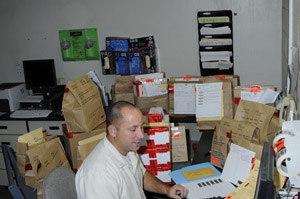 Fingerprint Examinations And AFIS Entry
Steve Johnson, Supervising Criminalist 
Phone: (775) 328-8721
sjohnson@washoecounty.us
The Forensic Science Division conducts the following with regards to latent fingerprint identification:
Evaluate and compare all of your latent lift cards and reference prints.
Search your latent prints in WIN/ABIS.
Supply expert testimony in any court proceedings as required.
Maintain a file of your latent fingerprint evidence.
Western Identification Network / Automated Biometrics Identification System – WIN/ABIS
WIN/ABIS is a multi-state network that has the ability to search criminal and non-criminal fingerprint records. Fingerprints collected from crime scenes, or collected from items submitted to the laboratory for analysis, are entered into the WIN/ABIS network and searched against over 29 million fingerprint records. Additionally, WIN/ABIS interfaces with local agencies in California and the national FBI databases.  Suitability for fingerprint database search/entry is determined by qualified personnel in the Forensic Science Division's Latent Print Comparison Section.  Fingerprint searches that fail to yield an identification can be registered to search against future arrestee and non-criminal records.  Please note that not all submitted latent prints will have sufficient quality for database entry and/or registration.   The database searched, the results of the search and/or fingerprint registration will be stated in an official report.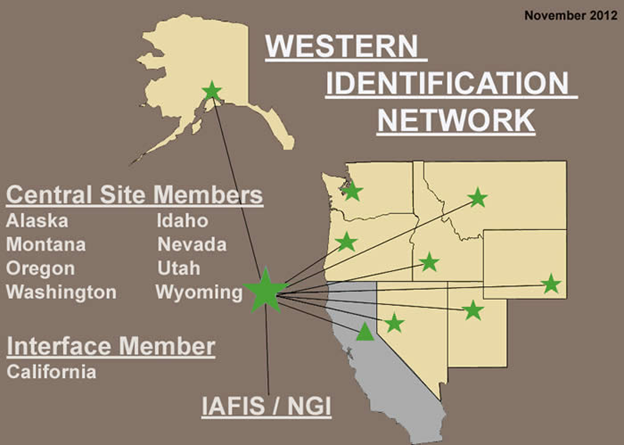 The WIN/ABIS system does far more than identify the individual you have in custody; it will also search the individual latent print that you develop from a crime scene. If you submit latent lift cards to this lab for evaluation and computer search, you can be assured that regardless of the type of crime, we will search any prints that are of value against the computer database. Palm prints can also be searched. The computer search is predicated upon a core/axis placement and minutia alignment, which must be determined by the latent examiner. The high tip area of the fingers, extreme side portions of the fingers, and second/third joints cannot be searched in the computer; however they can be manually compared to major prints submitted by the requesting agency.
The majority of latent prints developed at crime scenes that are submitted for comparison can be searched in the computer. If the search is positive and identification is effected, you will be notified and a report will follow. If no identification is effected, then the latent print will be registered in the "unsolved latent database" file. By registering a print, the print will be searched against future arrestees within the WIN network. The latent print will remain in the computer until it is identified or the statute of limitations has expired.
Please note: All latent prints which are sent to us for evaluation and entry into the WIN/ABIS computer will remain at the Forensic Science Division for the following reasons:
 If the print has been identified, we may have to make charted enlargements at a moment's notice.
 If the print was not identified, then it will be needed for future comparisons should the computer register a candidate.
All latent prints which are sent to the Forensic Science Division are filed by lab number and cross-referenced to an agency and agency case number.  At the present time, latent fingerprints submitted for comparison are maintained in this file. Should your agency wish to have us evaluate, search, and file your latent prints, simply forward each case attached to a completed Examination Request Form (S-168 4/92) and check the boxes "Evaluate and file" and "WIN/ABIS". Keep the yellow copy for your records. You will receive a report advising you of the value of the latent prints and any future work to be conducted.
If there is a suspect in the case, submit a ten print card along with your request.  If a ten print card cannot be obtained by the user agency the Latent Print Examiner will contact the state repository.  In order for the Latent Print Exaimer to receive a ten print card from the state repository, all the suspect's demographic information including their SID and FBI reference number if applicable is required on the Examination Request Form.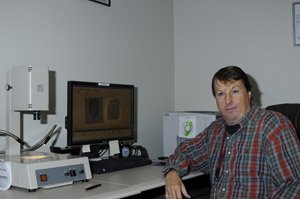 Alternate Light Source (ALS) Examinations:
One of the procedures available through FIS is alternate light source examination. During an investigation, the following evidence may be located as a result of an ALS exam: semen; hairs; fibers; and/or injuries to tissue beneath the skin's surface.
When evidence is submitted for latent fingerprint processing and a light source examination is used, the evidence may be "superglued" and then washed with a fluorescent dye stain. The evidence will be returned with the proper warning labels attached, in order to limit the possibility of an accidental exposure following latent print processing.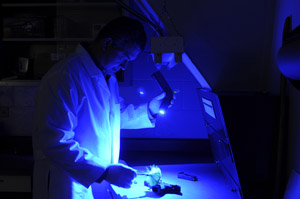 Photography Of Latent Prints:
Whether in the field or the laboratory, there are many instances in law enforcement which may require photographic documentation beyond the capabilities of the standard Crime Scene Investigator. The Forensic Science Division is equipped to handle such instances.
Photographs of shoe and tire impressions are best taken utilizing camera equipment with the capacity for large detailed photographs (large format film or high megapixel digital camera); while bite marks, other injuries, and trace evidence such as hairs and fibers, should be taken with cameras equipped with lenses capable of focusing much closer than normal lenses. This helps reduce possible photographic distortions of the subjects.
Specialized equipment such as Alternate Light Sources or the Forensic Investigation Section's DCS4 camera systems may be needed to photograph some evidence items, while specialized techniques with normal camera equipment may be all that is needed to photograph others.