»
Chief Operations Bureau
Chief Operations Bureau
Chief Deputy Greg Herrera - Operations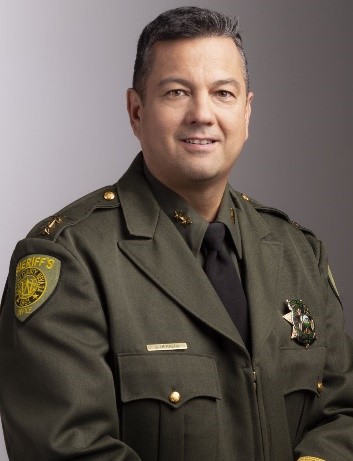 Chief Deputy Greg Herrera began his service with the Washoe County Sheriff's Office in 1994 as a deputy sheriff. Throughout his career he held a variety of assignments in all three bureaus: Detention, Operations, and Administration.
As Chief Deputy of the Operations Bureau, he has operational control over the Patrol and Special Operations Divisions. Units under this Bureau include Detectives, K9, SWAT, Search and Rescue, RAVEN, and the Northern Nevada Intelligence Center.
His career as a deputy led him to the Detective Division where he was recognized for his work investigating fraud, property crimes, crimes against children, internet crimes against children, and homicides. In 2004 he was recognized by the Secret Witness Board and presented with the Outstanding Crime Stopper award. He was awarded a Distinguished Service Medal in 2005 for his work on a series of cases involving crimes against children and homicides.
In 2012 Chief Deputy Herrera was promoted to Lieutenant and served in Detention, Special Operations Division, Training, and Patrol. In 2018, he was promoted to Captain of the Administrative Division. He served in that capacity until he was appointed to the Chief Deputy position in January 2019.
Chief Deputy Herrera was a member of the Sheriff's Office SWAT team for nine years and was awarded two Medals of Valor during that time period. He has command level experience in Patrol, Detention, Administration, and Special Operations. He has supervised SWAT, K-9, Detectives, Courts, Northern Nevada Law Enforcement Academy, and the Communications Center.
In 2001, Chief Deputy Herrera lost his mother to cancer. He emerged from that difficult experience with a mission to raise awareness and funds to support scholarships and charities in Elko and Washoe County. Some of those charities include; Hospice, Relay for Life, Friends for Life, Northern Nevada Children's Cancer Foundations, and donations provided to assist families with travel and medical expenses related to their battle with cancer.
Chief Deputy Herrera enjoys spending time with his wife, Brandi and his two children Brayden and Kendyll. He is also an avid supporter of Nevada Wolf Pack Athletics.