Washoe County Sheriff's Office
For Immediate Release
PR #:
1900106
Date Issued:
Oct 10, 2019 - 10:03am

---

Your day to meet the K9s – Barks and Badges this Saturday at Bartley Ranch Regional Park

CONTACT:
Bob Harmon
Washoe County Sheriff's Office
Office 775-785-6235
Cell 775-722-5517
---
The Washoe County Sheriff's Office K9 unit invites you to join them for the annual Barks and Badges community event hosted by Washoe County K9 Partners this Saturday at Bartley Ranch Regional Park.
The event begins at 10:00 a.m. sharp with a very special retirement ceremony for K9 Murphy (pictured). Sheriff Darin Balaam will host this ceremony as we pay tribute to the career of this incredibly effective narcotics K9. Murphy is retiring after four years with the Sheriff's Office, prior to which he served three years with the Nevada Highway Patrol, because his human partner was recently promoted to Sergeant.
Additional K9 demonstrations will be held every hour, including K9s with the Sheriff's Mounted Patrol Unit, K9s with SWAT, and K9s working with the unit's new drone. In addition to the K9 demonstrations, there will be plenty of vendors, family activities, food trucks, and displays from the Sheriff's Office and some of our partnering agencies such as NDOW and the Truckee Meadows Fire Protection District.
Barks and Badges
When: 10:00 a.m. to 3:00 p.m. on Saturday, October 12, 2019
Where: Bartley Ranch Regional Park, 6000 Bartley Ranch Road, Reno
Barks and Badges supports Washoe County K9 Partners, a local non-profit who provide invaluable support to the Sheriff's Office K9s.
For example:
K9 Partners funded a new drone that will be demonstrated as part of the event
K9 Partners funded the last two K9s acquired by the Washoe County Sheriff's Office along with the training and equipment necessary to put them to work
K9 Partners has donated specialized protective vests for the K9s which help to keep them safe and are used as harnesses so the dogs may be deployed by the RAVEN helicopter
K9 Partners donated temperature sensors for the patrol vehicles so deputies are able to continually monitor the safety of the K9s
Support from K9 Partners is actually support coming from the community. That's why the Sheriff's Office considers Barks and Badges to be such a wonderful opportunity for families to meet the dogs and the deputies assigned to the K9 unit and see live demonstrations that show the dogs in action.
Everyone is invited to this unique opportunity to learn more about your Sheriff's Office K9 team, while supporting them through Washoe County K9 Partners. For more information, visit Washoe County K9 Partners online at k9partners.org, or on Facebook.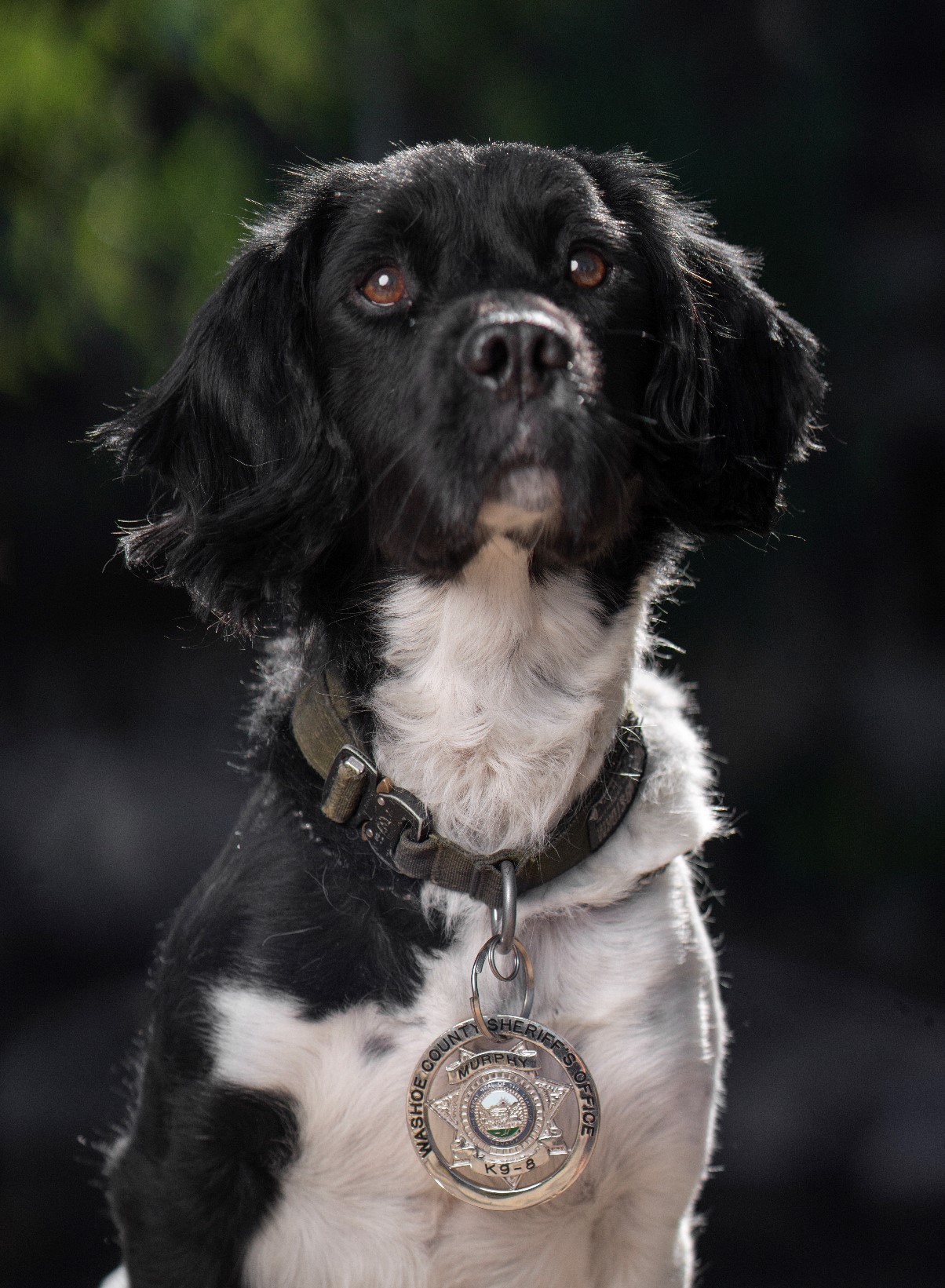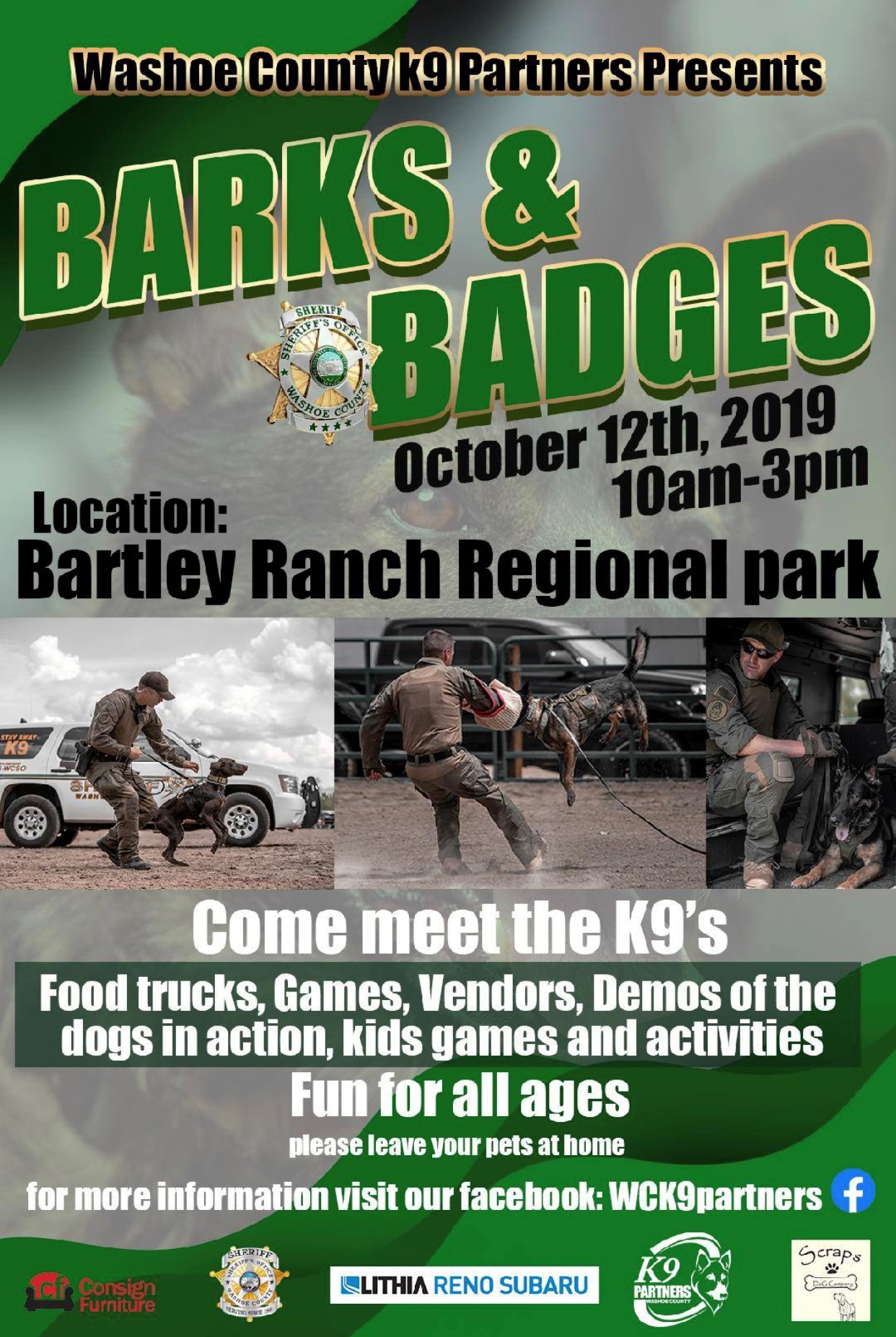 The Washoe County Sheriff's Office is dedicated to preserving a safe and secure community with professionalism, respect, integrity and the highest commitment to equality. Sheriff Darin Balaam is the 27th person elected to serve as the Sheriff of Washoe County since the Office was created in 1861. The Washoe County Sheriff's Office strives to ensure public safety by building trust and creating partnerships within the diverse communities in which we serve. We will promote the dignity of all people supported by our words and actions through open communication while fostering an environment of professionalism, integrity and mutual respect.
###