Washoe County Sheriff's Office
For Immediate Release
PR #:
1900007
Date Issued:
Jan 17, 2019 - 5:19pm

---

Sheriff Balaam updates community on La Guardia Lane homicide investigation

CONTACT:
Bob Harmon
Washoe County Sheriff's Office
Office 775-785-6235
Cell 775-722-5517
---
Washoe County Sheriff Darin Balaam just completed briefing the community on the Sheriff's Office ongoing investigation of the deaths of two people located yesterday inside a residence in southwest Reno. Here is the text of his remarks, the complete video of today's briefing is available on the Washoe County Sheriff's Office Facebook page:
GOOD AFTERNOON, I'M WASHOE COUNTY SHERIFF DARIN BALAAM. I WANT TO THANK YOU FOR JOINING ME THIS AFTERNOON SO THAT I MAY PROVIDE YOU, AND OUR COMMUNITY, WITH AN UPDATE ON OUR INVESTIGATION INTO THE DEATHS OF TWO PEOPLE THAT OCCURRED AT A RESIDENCE OFF LA GUARDIA LANE IN SOUTHWEST RENO.
FIRST, I WANT TO STATE THIS IS AN ACTIVE INVESTIGATION IN THE VERY EARLY STAGES. I AM JOINED BY OUR REGIONAL LAW ENFORCEMENT PARTNERS AND ELECTED OFFICIALS. I WANT TO REASSURE THE CITIZENS THROUGHOUT OUR COMMUNITY THAT LAW ENFORCEMENT HAS MADE THIS A TOP PRIORITY. WE ARE WORKING IN A COLLABORATIVE EFFORT USING ALL AVAILABLE RESOURCES TO INCREASE PATROL UNITS IN OUR REGION AND DEDICATE PERSONNEL TO THE INVESTIGATION TO SOLVE THIS CRIME.
I'LL START BY PROVIDING YOU WITH UPDATES REGARDING THE LA GUARDIA INVESTIGATION.
BASED ON THE EVIDENCE GATHERED SO FAR, WE ARE CONSIDERING THIS TO BE AN ACTIVE HOMICIDE INVESTIGATION.
THERE ARE TWO VICTIMS IN THIS CASE, AN EDERLY MALE AND AN ELDERLY FEMALE THAT WERE DISCOVERED UPON THE INITIAL SEARCH OF THE RESIDENCE.
AT THIS TIME, WE ARE AWAITING CONFIRMATION OF THEIR IDENTITIES FROM THE WASHOE COUNTY REGIONAL MEDICAL EXAMINER'S OFFICE AND WILL MAKE THOSE IDENTITIES AVAILABLE ONCE THEY ARE CONFIRMED AND NEXT OF KIN HAVE BEEN NOTIFIED.
DUE TO THE SIMILARITIES BETWEEN THE LA GUARDIA CASE AND THE TWO RECENT HOMICIDES IN DOUGLAS COUNTY WE IMMEDIATELY CONTACTED DOUGLAS SHERIFF'S OFFICE DETECTIVES AND SURROUNDING LAW ENFORCEMENT AGENCIES IN THE REGION. I WOULD LIKE TO THANK ALL OF THE AGENCIES BEHIND ME FOR THEIR QUICK RESPONSE AND WILLINGNESS TO ASSIGN ADDITIONAL PERSONNEL IN OUR EFFORTS WITH THE INVESTIGATION AND KEEPING OUR COMMUNITY SAFE.
ALL LAW ENFORCEMENT AGENCIES HAVE BEEN WORKING TOGETHER SINCE YESTERDAY EVENING TO DETERMINE WHAT, IF ANY CONNECTION, THERE MAY BE BETWEEN THE TWO INVESTIGATIONS.
AS WE WORK TO LEARN MORE, WE WANT TO ADDRESS THE VERY REAL AND LEGITIMATE CONCERNS OF OUR COMMUNITIES.
THAT'S WHY YOU SEE REPRESENTATION FROM ALL OUR LOCAL LAW ENCORECMENT HERE IN THE ROOM WITH ME THIS AFTERNOON.
SHERIFF DAN COVERLEY OF DOUGLAS COUNTY
SHERIFF KENNY FURLONG OF CARSON CITY
RENO POLICE CHIEF JASON SOTO
LT. MARCONATO FROM THE SPARKS POLICE DEPARTMENT
ASSISISTANT SPECIAL AGENT IN CHARGE MICHAEL HICKOK FROM THE FBI
WE ARE ALSO JOINED BY WASHOE COUNTY COMMISSION CHAIRMAN MARSHA BERKBIGLER AND COMMISSIONER BOB LUCEY
WE'VE ALL COME TOGETHER TO MAKE SURE THE PUBLIC KNOWS THAT WE ARE WORKING TOGETHER AS A REGION TO KEEP OUR COMMUNITIES SAFE AND BRING THOSE RESPONSIBLE FOR THESE CRIMES TO JUSTICE AND ADDRESS YOUR CONCERNS.
ALL THE AGENCIES HERE TODAY ARE MAKING SIGNIFICANT CONTRIBUTIONS TO THE ONGOING INVESTIGATIONS.
WE ARE ALSO RECEIVING SUPPORT FROM OUR FEDERAL PARTNERS IN THE REGION.
I WANT TO REITERATE THAT KEEPING OUR COMMUNITY SAFE AND BRINGING THOSE RESPONSIBLE FOR THESE CRIMES TO JUSTICE IS LAW ENFORCMENET'S TOP PRIORITY.
ALL OF US ARE ALSO TAKING STEPS TO INCREASE SAFETY IN OUR COMMUNITY BY INCREASING PATROLS IN THE AREAS WHERE THESE CRIMES HAVE OCCURRED. WE WOULD ALSO LIKE TO ASK THE COMMUNITY FOR THEIR PATIENCE IN OUR RESPONSE TO LOWER PRIORITY CALLS AND ENCOURAGE YOU TO FILE THOSE REPORTS ONLINE IF AVAILABLE.
SO WHAT CAN YOU DO?
WATCH OUT FOR EACH OTHER.
STAY IN CONTACT WITH YOUR NEIGHBORS, YOUR FAMILY AND YOUR FRIENDS.
STAY ALERT FOR ANY SUSPICIOUS ACTIVITY AND REPORT IT IMMEDIATELY TO LAW ENFORCEMENT.
KEEP YOUR CELLPHONES HANDY AND CHARGED, READY TO USE THEM IF YOU NEED THEM
SECURE YOUR HOMES AND DON'T OPEN THEM TO PEOPLE YOU DON'T KNOW.
IF YOU HAVE OUTSIDE LIGHTING TURN IT ON DURING THE EVENING HOURSE.
AND IF SEE ANYTHING OR KNOW ANYTHING THAT CAN ASSIST IN THIS INVESTIGATION, NO MATTER HOW INSIGNIFICANT YOU FEEL IT MAY BE– CONTACT US.
WE HAVE ESTABLISHED A 24-HOUR REGIONAL HOTLINE THROUGH THE WASHOE COUNTY SHERIFF'S OFFICE TO RECEIVE ANY TIPS THAT CAN ASSIST OUR INVESTIGATORS.
THAT NUMBER IS: 7-7-5, 3-2-1, 4-9-1-1
BEFORE WE LEAVE, I WANT TO THANK OUR REGIONAL PARTNERS FOR BEING HERE TODAY AND FOR THE INVALUABLE ASSISTANCE YOU HAVE PROVIDED US SINCE THE BEGINNING OF THIS INVESTIGATION.
I WOULD ALSO LIKE TO THANK THE PUBLIC FOR THEIR PATIENCE AS WE DEVELOP LEADS IN THIS INVESTIGATION.
WE STILL HAVE QUITE A BIT OF WORK IN FRONT OF US AND AS A MENTIONED, THIS CASE IS OUR TOP PRIORITY.
WE WILL CONTINUE TO WORK TOGETHER TO SOLVE THIS CRIME AND TO KEEP OUR COMMUNITIES SAFE.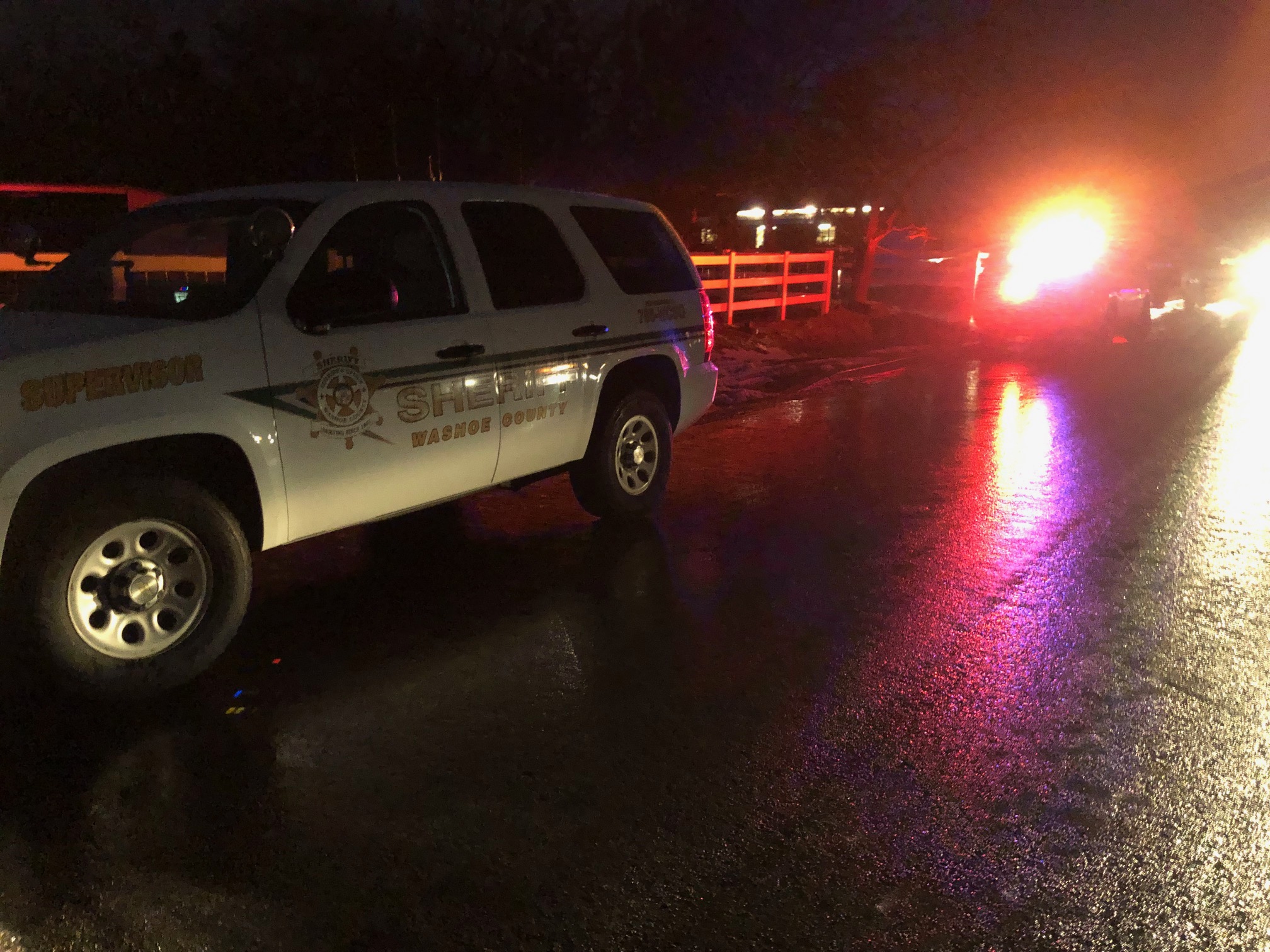 The Washoe County Sheriff's Office is dedicated to preserving a safe and secure community with professionalism, respect, integrity and the highest commitment to equality. Sheriff Darin Balaam is the 27th person elected to serve as the Sheriff of Washoe County since the Office was created in 1861. The Washoe County Sheriff's Office strives to ensure public safety by building trust and creating partnerships within the diverse communities in which we serve. We will promote the dignity of all people supported by our words and actions through open communication while fostering an environment of professionalism, integrity and mutual respect.
###