»
Chief Administrative Bureau
Chief Administrative Bureau
Chief Deputy Tim O'Connor - Administrative Bureau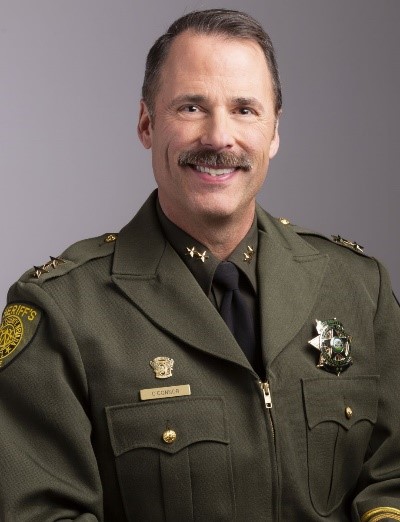 Chief Deputy Tim O'Connor began his service with the Washoe County Sheriff's Office as a deputy sheriff in 1997. He has a range of command and leadership experience in all three bureaus: Administration, Detention and Operations.
As Chief Deputy of the Administration Bureau, he has operational command of the Community Engagement Office, Records, Civil Process, Backgrounds Unit, Training Section, Research & Development, Dispatch, the Academy and the Forensic Science Division (Crime Lab).
Throughout his career with the Washoe County Sheriff's Office, Chief Deputy O'Connor has served in a multitude of specialty and command assignments, including: the Training Section, Detention Administration, Training and Compliance Office, Courts, Motors, SWAT Commander, Special Operations, Administration and Patrol. He served as Captain of the Patrol Division prior to his appointment to Chief Deputy in January 2019.
A graduate of the High Sierra Law Enforcement Academy, Chief Deputy O'Connor also has a Bachelor of Science Degree in Business Administration from California State University, Chico, and attended the Senior Management Institute for Police in Boston, Massachusetts.
Chief Deputy O'Connor recognizes and appreciates the talent and dedication the Sheriff's Office employees exhibit every day in their mission to serve our community. The teamwork and collaboration demonstrated by our staff provides a responsive and effective means to address the issues facing our society and helps provide a safe and secure community for all.