Shop With the Sheriff Story
Hi Tami, I wanted to share this with you...
In Community Outreach we focus on prevention and early intervention, but we also work with a lot of youth on probation as well as their families. I have been working with a 6th grade little girl named Arianna.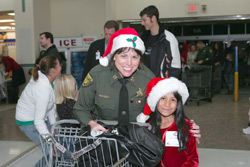 Arianna has shared with me numerous times her distrust and dislike for law enforcement. When asked why she said, "because they took my brother away." After meeting several more times Arianna disclosed to me that her 14 year old brother is in jail. She told me that she saw him get arrested. She said it was the most horrible day of her life and she gets very emotional talking about it. In her eyes law enforcement is the "bad guy" that took her brother away. She said she gets frightened when she see's police and she is scared of them.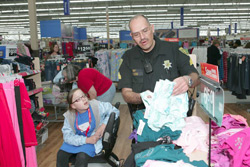 When Tami invited Juvenile Services to participate in the Shop With A Sheriff I knew that Arianna was exactly the type of kid that would benefit from this experience. Arianna was anxious, nervous and a little unsure of the Shop. She was paired with Washoe County Honorary Deputy Sheriff's Association member Ed Frazierand his wife Kathy and afterwards said, "this was the best day of my entire life, maybe even better than the day I was born!" Ed and Kathy were amazing and spent so much time and energy with Arianna and also another little girl named Maggie.
Arianna had the opportunity to meet Sheriff Haley as well. He was so kind to her and really listened to what she had to say. He asked what school she went to and asked about her grades. She was happy to inform him she is getting good grades and loves school. He asked about her shopping experience and she told him how much fun she had. She also told him some of the gifts she got for herself and her family. Sheriff Haley thanked her for buying a gift for her mother and told her how much he is sure her mother will appreciate it. When he said good-bye she was glowing. She was so excited she got to meet the Sheriff. She is telling everyone at school that she got to meet the Sheriff and that he was so "cool"!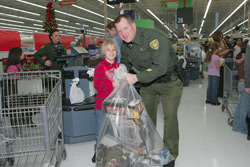 I saw Arianna today and she is still beaming. She made a special thank you card for Ed and Kathy who I believe will always have a place in her heart. I feel very lucky that forty youth were able to be referred from Juvenile Services. To say that this event made an impact on all of their lives and their families lives is an understatement. We cannot thank you enough and I believe Arianna is a perfect example of the good you do and the differences you make. Prior to this experience Arianna was fearful of law enforcement and after the Shop she was able to see them as the wonderful, generous and kind people that they are!