Inmate Mail and Phone Calls
Main Phone: (775) 328-2971
E-Mail
The Sheriff's Office now accepts email messages for inmates. Click http://www.jailatm.com and follow the on-screen instructions to send an email to an inmate.
Mail
You may communicate with an inmate at any time via the U.S. mail. We receive daily deliveries from the U.S. Postal Service.
INCOMING AND OUTGOING MAIL WILL BE RESTRICTED TO POSTCARDS. THIS POLICY WILL NOT APPLY TO LEGAL CORRESPONDENCE.
INMATES MAY RECEIVE MAGAZINES AND/OR BOOKS IF THEY COME DIRECTLY FROM THE PUBLISHER OR A BOOKSTORE. NO HARDBACKS OR ITEMS WITH THE CONTENTS NOTED BELOW ARE ACCEPTED.
Size Restriction: The maximum size allowed for a postcard is 4.25 x 6 inches.
Items that are NOT allowed:
No postcards with glue, glitter or tape

No defaced or altered postcards

No plastics or wrapping on postcards

No postcards marked with paint, crayon or felt marker

No postcards with attached labels or stickers

No postcards with watermarks or stains

No postcards with any biohazards, including perfumes, lipstick or body fluids

No postcards depicting nudity, explicit content, weapons, or gang references

No oversized postcards (larger than 4.25 x 6 inches)

No homemade postcards
Postcards will be available for purchase by the inmates through Commissary.
Inmates may still purchase stamped envelopes for outgoing legal mail. The envelope must be addressed to a recognized legal organization or meet the definition of "legal mail"
How to address a postcard
Inmate's name, then the word 'inmate' and the booking number if available
Example: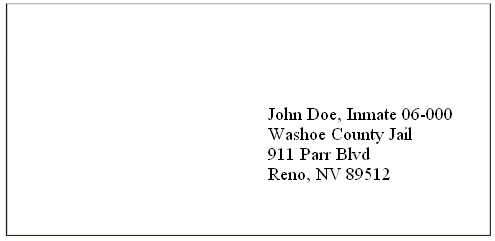 Telephone Calls:
Inmates cannot receive telephone calls. Inmates can make outgoing calls by purchasing phone time or calling collect.
Outgoing telephone calls are contracted through ConnectNetwork by GTL
There are 2 Easy Ways to Use ConnectNetwork by GTL:
Online: http://www.connectnetwork.com

Or call
Customer Service & Telephone payments: 1-877-650-4249
View Also: Sending Money to an Inmate