Executive Staff Biographies
Sheriff Chuck Allen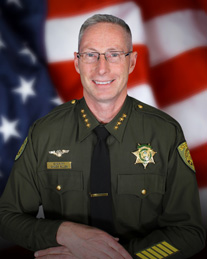 Sheriff Chuck Allen was elected to serve as Washoe County's 26th Sheriff on November 4th, 2014, his latest endeavor in over 30 years of public service that began with his entry into the United States Air Force in 1984.
After two years of active duty, Sheriff Allen transferred to the Wisconsin Air National Guard as a traditional guardsman serving as a security policeman. He relocated to Reno, Nevada in 1987 where he continued his service in the military as a member of the Nevada Air National Guard.
In 1990, Sheriff Allen entered civilian service as a law enforcement officer by joining the ranks of the Nevada Highway Patrol where he served as a State Trooper for over 24 years. During his last 11 years with the state Highway Patrol he served as the agency's Public Information Officer, working closely with six Nevada Highway Patrol Chiefs and six Directors of the Department of Public Safety.
Sheriff Allen gave nearly 31 years of military service before retiring at the rank of Chief Master Sergeant. During his tenure in the military, he served seven years as a First Sergeant, and nearly four years as the Human Resource Advisor to the Commander of the 152nd Airlift Wing. Since 2001, he was deployed to many locations around the world including Ecuador, Puerto Rico, Germany and Iraq.
Sheriff Allen's professional development as a senior ranking military member encompassed attending several academies in residency. These academies included the Non-Commissioned Officers Academy, First Sergeant Academy, Senior Non-Commissioned Officers Academy, and the Chiefs Executive Course. In addition, he is currently completing work on two degrees. One degree is in Logistics Management and the other is in Human Resources Management.
Sheriff Allen's commitment to community involvement has always been important of his life. He currently serves on the Governing Board of the Nevada Humane Society and the Executive Committee of Special Olympics Nevada. As an active member on the boards of both of these organizations, Sheriff Allen continues to raise awareness and funds that help to advance their worthy causes.
Sheriff Allen is also of member of American Legion Post 12 in Reno where he serves as the Sergeant-at-Arms.
Sheriff Allen is married to his wife Teresa and they have two grown children; Bailey and Sheldon. Their family also includes Dezzie (their 13 year-old Toy Poodle) and Toula (their 4 year-old Poodle/Cairn Terrier mix.)
---
Undersheriff John Spencer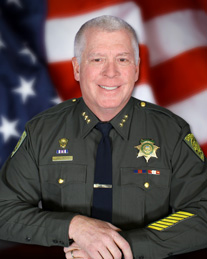 Undersheriff John Spencer is second in command of the Washoe County Sheriff's Office. In this position he serves as the Chief Administrator and Executive Officer to the Sheriff. His responsibilities include strategic operations and oversight of all Sheriff's Office Divisions.
Undersheriff Spencer joined the WCSO as a Deputy Sheriff in 1985. During his 28 year career at the Sheriff's Office, he has had the honor of serving the agency as a member of the Motor Unit, Major Accident Investigation Team, Special Weapons and Tactics Team, Detention Response Team, Honor Guard and Critical Incident Stress Management Team. He was also an original member of the Transition Team that helped to facilitate the transition from the old Sheriff Headquarters and Consolidated Detention Facility in downtown Reno to their current location on Parr Boulevard.
Undersheriff Spencer worked line level, supervisory and command assignments in all Bureaus of the Office, achieving the rank of Captain before his retirement in 2013. Retirement provided him the opportunity to work with Sheriff Allen and return to the WCSO as Undersheriff.
Undersheriff Spencer is a graduate of the Northwestern University School of Police Staff and Command and holds an Executive Certificate from the Nevada Peace Officer Standards and Training Commission. He has been decorated three times during his career, earning the Bronze Star and two Meritorious Service medals.
---
Chief Deputy Susan Schilling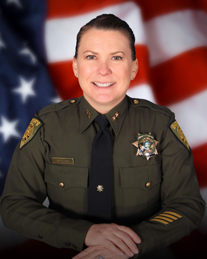 Chief Deputy Susan Schilling was formerly employed by the State of Nevada for more than 23 years. She began her law enforcement career in Las Vegas in 1998 as a Parole and Probation Officer. In 2005, she was promoted to Lieutenant and transferred to the Nevada Highway Patrol. She became the first female promoted to the rank of Major on April 15, 2014, assigned as the Northern Command Deputy Chief.
As Chief Deputy of the Administrative Bureau, she has operational command of Administrative Services (Records and Civil), the Regional Public Safety Training Center, Training Division, Research and Development, Backgrounds, Community Relations, Dispatch and Fleet Services.
Chief Deputy Schilling earned a Master of Science in Performance Improvement with Distinction from Grantham University and a Bachelor of Arts in Criminal Justice from the University of Nevada, Las Vegas. She also graduated from Northwestern University School of Police Staff and Command and holds an Executive Certificate from the Nevada Peace Officers Standards and Training Commission.
---
Chief Deputy Russell Pedersen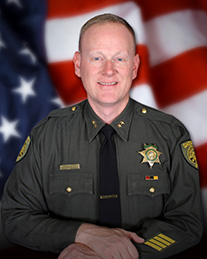 Chief Deputy Russell Pedersen began his service with the Washoe County Sheriff's Office as a Deputy Sheriff in 1997. Chief Deputy Pedersen has a full range of command and leadership experience in all three bureaus: Administrative, Detention and Operations.
As the Chief Deputy in charge of the Detention / Courts Bureau, he commands all functions of the Washoe County Consolidated Detention Facility. In addition, Chief Deputy Pedersen is responsible for the overall protection of the Mills Lane Justice Complex, the Second Judicial District Court, and all its associated departments.
Throughout his career with the Washoe County Sheriff's Office, Chief Deputy Pedersen has served in a multitude of specialty and command assignments, including: Detention Boot Camp, Civil Division, Regional Aviation Unit (RAVEN), Northern Nevada Regional Law Enforcement Academy, Dispatch Communications, Research & Development, Training, Backgrounds, Fleet Services and Search & Rescue, where he was awarded the Vincent G. Swinney Medal for Excellence in Search and Rescue.
Chief Deputy Pedersen graduated from the 254th Session of the FBI National Academy in September 2013.
Chief Deputy Pedersen's experiences have taught him the importance of teamwork, multi-agency collaboration and community support. He finds gratification each day in knowing he has the privilege of working with dedicated individuals throughout the county who love serving the community as much as he does.
---
Chief Deputy Sherman Boxx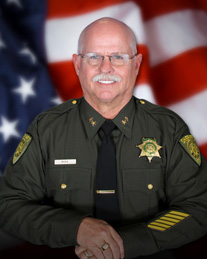 Chief Deputy Sherman Boxx started his law enforcement career when he joined the Sparks Police Department in 1977. During his time with the Sparks PD, Chief Deputy Boxx served in the Communications, Patrol and Detective Division. He was also assigned to undercover narcotics while a Detective.
Chief Deputy Boxx progressed through the ranks to the rank of Lieutenant before his retirement in 2003. He supervised Patrol, Detectives, and the Department's Training and Community Services section. He also managed the Department's field training programs.
Chief Deputy Boxx has completed many supervisor and management courses, including the University of Nevada, Reno Supervisory Management certificate program. He is also a certified instructor at both state and federal levels.
As a Detective, Chief Deputy Boxx worked closely on numerous juvenile and gang investigations. As a result, he developed a passion for the protection of juvenile victims. He was on the first Washoe County Missing and Exploited Children's Comprehensive Action Team and volunteered to serve on the Board of Directors for the Child Assault Prevention program.
Through his many years of law enforcement service, Chief Deputy Boxx learned the importance of a team philosophy. He is committed to the philosophy that the Sheriff's Office is part of a regional effort that teams every member of the Office with other regional agencies and the community to increase public safety in Washoe County.
Chief Deputy Boxx is married to his wife Sarah and they have two grown children; son Steven, daughter Sandra Fontes, and 6 grandchildren.