Domestic Violence Victim Information
Victim Advocate Heather Dreiling Phone: (775) 325-6454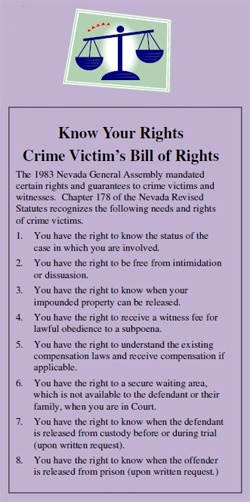 Victims of Domestic Violence, Sexual Assault and Stalking often become overwhelmed with all of the changes, stress and emotional turmoil. It is crucial that they get the answers to their questions and start to regain a sense of safety and power. By working together with local community resources, the hope is to provide the best resources possible to the critical needs of those who have been impacted by crime. Trained Victim Advocates are able to step in and provide the emotional and practical support for the victim and their family. They work with the victim to assess the victim's short term needs and long terms goals.
The face of a domestic violence victim is not restricted to gender, economics or ethnicity. A Victim Advocate will assess the victim's individual needs and concerns and provide a variety of support and services. These may include:
Safety Plan Development
Personal Advocacy
Referrals to Community Resources such as counseling, support groups and resources
Provide updates on the status of their criminal case
Assist in filing for Victims of Crime Compensation
Assist in filing for a Temporary Protection Order or Stalking Order
Inform the Victim of Victim's Rights
Please note that a criminal report is not necessary to take advantage of these services.
Click HERE for information on Temporary Protection Orders for Survivors.