Community Emergency Response Team - CERT
Betsy Hambleton, CCP Coordinator
(775) 325-6927
Derek Russell, Coordinator
(775) 325-6928
CERT is disaster preparedness and response training. These classes are designed for the "general citizen" and will provide a broad base of training in disaster preparedness, light search and rescue, disaster medical, fire safety and many other aspects of preparation and response. No prior experience or training is necessary. Although many graduates do go on to join a CERT team, there is no requirement that you volunteer and we encourage everyone to attend the training. CERT volunteers help not only during disasters, but also assist professional responders during training and exercises. In CERT, there is a job for everyone.
For more information contact:
Betsy Hambleton at (775) 325-6927, bhambleton@washoecounty.us, or Derek Russell at (775) 325-6928 DRussell@washoecounty.us.
Class size limited, to register call 325-6927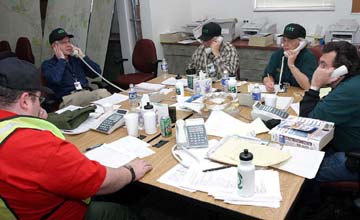 January 2005 - CERT & CHSC Volunteers activated
to assist with food and medicine during Snow Storm
Other Helpful Links:
CERT Overview
Red Cross