Alternatives to Incarceration Unit (A.I.U.)
Brooke Howard
350 S. Center St., Suite 101
Reno, NV 89501
Main Phone: (775) 785-4239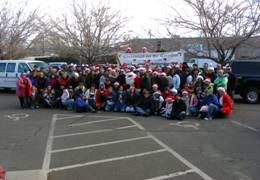 Alternative Sentencing is a sentencing program that is an alternative to jail. The Alternative Sentencing Program diverts offenders away from costly incarceration and offers a second chance to those who have committed less serious offenses. The Washoe County Sheriff's Office's Alternatives to Incarceration Unit is responsible for screening defendants for eligibility, managing defendants while participating in any of the diversion programs and managing several programs for inmates who are incarcerated in the Detention Facility.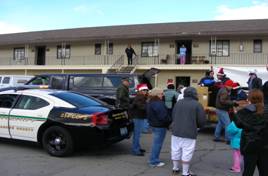 Defendants may be sentenced directly to a program by the Judge, be screened for eligibility by AIU or may fall into the category of possible early release due to jail overcrowding. That number averages well over 1200 active participants/inmates daily. AIU not only qualifies and releases inmates, they also oversee all activity necessary to assure a very high success rate.

The Sheriff's Alternatives to Incarceration Unit also partners and participates in numerous county outreach programs and is a drop-off site for donations of new or gently used items.
Christmas on the Corridor (4th Street Christmas Parade) provided over 2,500 Christmas bags and toys to children and seniors in the motel district of 4th, 5th and 6th Streets along with the Denslow, Trainer and Pat Baker park areas. Donations are welcomed throughout the year and are given to a variety of charities.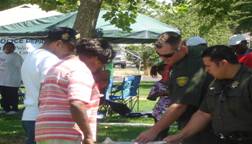 The following new and gently used items are needed:
Clothing for children and tweens, including coats, hats, and gloves
Backpacks and school supplies
Toys of all kinds for all ages
Games and books for teens and tweens
Gift cards
Shampoo, toothpaste, soaps, and toothbrushes
Monetary donations
Books on CD, puzzles, paint by number sets, slippers, lap blankets, and anything else that would be appreciated by seniors.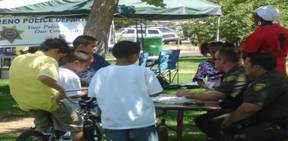 KRNV News 4 coverage of the new yoga program
Loading the player ...