Washoe County Sheriff's Office
For Immediate Release

PR #:
1300061
Date Issued:
Jun 04, 2013 - 3:12pm

---

Washoe County Sheriff's Office App now available for iPhones and iPads

CONTACT:
Tami Cummings
Community Relations
911 Parr Blvd Reno, NV 89512
Office (775) 785-6205
---
The Washoe County Sheriff's Office now has an App for iPhone and iPad to help increase public access to commonly used services such as online crime reporting, graffiti abatement and inmate searches.
The App is available for free from the Apple App Store.
"The Sheriff's Office has a history of incorporating cutting edge technology and innovative thinking to increase efficiencies, improve service levels and strengthen the partnership between our agency and the community we serve," Undersheriff Todd Vinger said. "Today we are taking the next step."
Undersheriff Vinger said the Sheriff's Office assigned in-house Information Technology staff to design and build the App as a benefit to an ever-growing percentage of the populace now using iPhones and iPads to access information. Vinger said that a version of the App for Android users is currently in the works.
"The Sheriff's Office believes it's an important part of our mission to make use of all available tools and technology to strengthen the information flow with the public and increase access to services," Undersheriff Vinger said.
The initial edition of the Sheriff's Office App provides access to some of the Office's most frequently used public services, including online crime reporting, graffiti abatement, inmate searches, contact information, and the opportunity to sign up for additional information from the Sheriff's monthly Community Partnership Connection eNewsletter.
Washoe County residents may also receive information about keeping their families and neighborhoods safer by following the Sheriff's Office on Twitter at: @washoesheriff, or visiting the "Staying Safe" page on the Sheriff's Office website, Washoesheriff.com. Another important tool for increasing personal and neighborhood security is the free online neighborhood safety service, AlertID. For more information, visit alertid.com.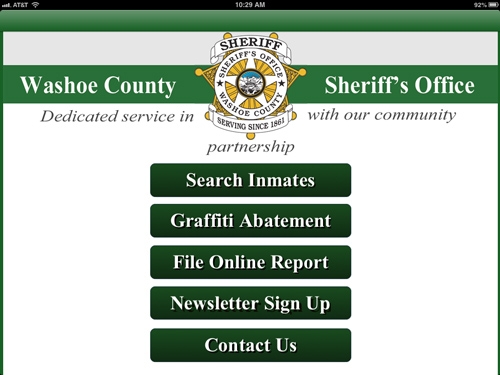 The Washoe County Sheriff's Office celebrated 150 years of proud service and community partnership in 2011. Sheriff Chuck Allen is the 26th person elected to serve as the Sheriff of Washoe County. His office continues to be the only full service public safety agency operating within northern Nevada and is responsible for operating the consolidated detention facility, regional crime lab, Northern Nevada Regional Intelligence Center, Internet Crimes against Children Task Force, court security, service of civil process and traditional street patrols.
###
---

Attached audio files...