Washoe County Sheriff's Office
For Immediate Release

PR #:
1300053
Date Issued:
May 22, 2013 - 2:32pm

---

Guns and Hoses golf tournament raises nearly $12,000 for the Northern Nevada Children's Cancer Foundation

CONTACT:
Bob Harmon
Washoe County Sheriff's Office
Office 775-785-6235
Cell 775-722-5517
---
The Washoe County Sheriff's Office and Truckee Meadows Fire Protection District's inaugural Guns and Hoses Golf Tournament raised $11,835.00 for the Northern Nevada Children's Cancer Foundation this week.
Eighty golfers from the Sheriff's Office and TMFPD took time off work to compete in the tournament on Monday, May 20. The idea for the tournament was first suggested by the Hidden Valley Country Club.
"When Hidden Valley Country Club approached us with the idea of hosting an event to thank first responders we saw an opportunity to give back to our community," Washoe County Assistant Sheriff Tim Kuzanek said. "We know that just about everyone has been touched by cancer so tournament organizers from Sheriff's Office and Fire Department chose to support the Children's Cancer Foundation to show our great appreciation for the invaluable service they provide to children with cancer and their families."
The competition was extremely close, with this year's tournament trophy going to the Sheriff's Office. However, the real winners are the children who receive support from the Northern Nevada Children's Cancer Foundation. Thanks to the members of the Hidden Valley Country Club's complete sponsorship of the tournament, 100 percent of the player's entry fees of $75 went directly to the Foundation. Local businesses and organizations donated additional sponsorships and raffle prizes to increase fundraising efforts.
Sponsors and donors included the Washoe County Sheriffs Supervisory Deputies Association, Washoe County Sheriff Deputies Association, Local 3895 – Truckee Meadows Firefighters, Verdi Volunteer Fire Department, Joe Fretz and Greg Sawyer, Sierra Meats, Carrie Sieben of LL Realty, Triad Technologies, Lee Brothers Vehicle Sales and Leasing, Sierra Nevada Port of Subs, Mae Anne Avenue Port of Subs, Mayberry Athletic Club, Hollylocks, Nevada Insurance Agency, Liberty Mutual Insurance, District Court Judge Scott Freeman, Hot August Nights, Lahontan Golf Community in Truckee, Wolf Run Golf Course, Stacy Kennedy of Liberty Mutual Insurance, Scheels, Cabela's, Western Nevada Supply, Summit Ridge Home Depot, Principal Financial Group, Carson Tahoe Hospital, The Smile Shop, Eldorado Hotel Casino, Jon and Carrie Sieben, Mark Fore and Strike, Eikelburger Awning and Drapery Company, Southern Wine and Spirits, The Fowl Life/Banded Nation with Chad Belding, The Prepper Store in Sparks, Titan Ammunition, Rufwood Clothing, Victoria's Secret, Perfect Balance Therapies, Nothing Bundt Cakes Reno, Bill Steward, All Seasons Window Tinting, Uniformity of Nevada, Golf Headquarters, and the Ross-Herrera Memorial Golf Tournament.
The Northern Nevada Children's Cancer Foundation's vision is to reach every family affected by childhood cancer in the Northern Nevada and Eastern Sierra regions. Their mission is to enhance the quality of life for children with cancer and their families by providing financial assistance and compassionate support programs while advocating for increased research funds and raising public awareness. For more information, visit www.nvchildrenscancer.org.
Photo 1: Truckee Meadows Fire Protection District and Washoe County Sheriff staff present a check for $11,835 to Debbie Strickland (center, in white sweater), Executive Director of the Northern Nevada Children's Cancer Foundation following the first annual Guns and Hoses fundraising golf tournament sponsored by Hidden Valley Country Club. Holding the check are Washoe County Assistant Sheriff Tim Kuzanek (left) and Truckee Meadows Fire Protection District Captain Zach Larkin (right)
Photo 2: Washoe County Sheriff Detective Tim Mosley prepares to tee off on the first hole of the Guns and Hosed Golf Tournament dressed in firefighting gear. Golfers donned uniforms from the opposing agency at the first tee: Sheriff's staff wore protective fire gear and Fire Protection District staff wore SWAT gear. Assistant Sheriff Darin Balaam looks on.
Photo credit: Tami Cummings, WCSO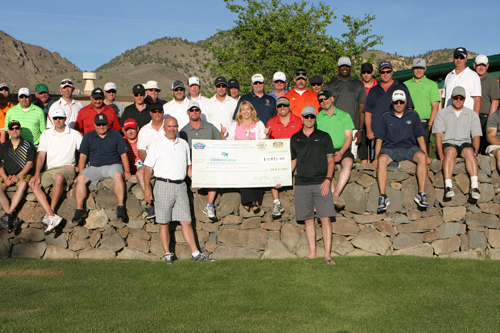 The Washoe County Sheriff's Office celebrated 150 years of proud service and community partnership in 2011. Sheriff Chuck Allen is the 26th person elected to serve as the Sheriff of Washoe County. His office continues to be the only full service public safety agency operating within northern Nevada and is responsible for operating the consolidated detention facility, regional crime lab, Northern Nevada Regional Intelligence Center, Internet Crimes against Children Task Force, court security, service of civil process and traditional street patrols.
###
---

Attached audio files...