Washoe County Sheriff's Office
For Immediate Release

PR #:
1200089
Date Issued:
Jul 17, 2012 - 5:50am

---

Animal Services' summer safety campaign gets a lift courtesy of Clear Channel Outdoor

CONTACT:
Barry Brode
Director, Regional Animal Services
Office: (775) 328-2142
Cell: (775) 530-2774
---

Washoe County Regional Animal Services is getting a "big screen" boost in their efforts to remind pet owners about the dangers of leaving pets unattended in enclosed vehicles thanks to several billboards provided by Clear Channel Outdoor.
"Public awareness is possibly the most effective tool we have to help promote the health and safety of pets in Washoe County," Regional Animal Services Manager Barry Brode said. "Clear Channel Outdoor's willingness to increase outreach through their billboards is a valuable addition to our efforts to protect through prevention."
Messages from Regional Animal Services are now being displayed on three separate rotating billboards as part of a seven-week agreement between Clear Channel Outdoor and Regional Animal Services. Billboard locations are:
West side of Vista Boulevard 0.2 miles north of the I-80, facing south
Eastbound side of the I-80 near East McCarran Boulevard, facing east
East McCarran Boulevard, just north of Mill Street, facing south
Animal Services' messages are expected to be shown over two million times between the three billboards during the seven week period.
An alarming increase in "Dog in Hot Vehicle" reports this summer compelled Washoe County Regional Animal Services to step up efforts to warn pet owners that temperatures inside a closed vehicle can easily rise to 20 degrees or warmer than outside temperatures. This could prove deadly to a pet.
"Our goal is to prevent this from happening and we appreciate Clear Channel Outdoors commitment to keeping this important message visible to the public," Brode said.
The public is encouraged to report distressed animals locked in hot cars immediately by contacting Washoe County Regional Animal Services dispatch at (775) 322-3647.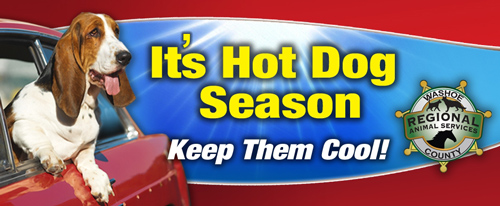 The Washoe County Sheriff's Office celebrated 150 years of proud service and community partnership in 2011. Sheriff Michael Haley is the 25th person elected to serve as the Sheriff of Washoe County. His office continues to be the only full service public safety agency operating within northern Nevada and is responsible for operating the consolidated detention facility, regional crime lab, Northern Nevada Counter Terrorism Center, Internet Crimes against Children Task Force, court security, service of civil process, traditional street patrols and Regional Animal Services.
###
---

Attached audio files...