Washoe County Sheriff's Office
For Immediate Release
PR #:
1200088
Date Issued:
Jul 14, 2012 - 4:51pm

---

Sheriff's Detectives and FBI Agents Seek the Publics Assistance in Identifying Saturday Morning's Sun Valley Bank Robbery Suspect

CASE #:
WC12-4858
WHEN:
Saturday, July 14, 2012 at approximately 9:55 a.m.
WHERE:
Wells Fargo Bank - 5440 Sun Valley Blvd Sparks, Nevada (Sun Valley area)
VICTIM/S:
Wells Fargo Bank
SUSPECTS:
Hispanic male adult in his mid 20's to 30's, approximately 5'7", thin build, black hair, brown eyes, with a moustache and a patch of hair underneath his lower lip.
CONTACT:
Deputy Armando Avina - Public Information Officer
911 Parr Blvd Reno, NV 89512
Office 775-328-6370
---
The Washoe County Sheriff's Office Special Operations and Investigations Division and the Federal Bureau of Investigations are collaboratively investigating a bank robbery that was reported on Saturday, July 14, 2012 at approximately 9:55 a.m.
Sheriff's Deputies were dispatched to the Wells Fargo Bank located at 5440 Sun Valley Blvd on a report of a robbery that just occurred. An unknown male entered the bank and handed the teller a note for money. The teller complied and then the suspect fled the bank on foot with an undisclosed amount of money. No weapon was seen.
The suspect is described as a Hispanic male in his mid 20's to 30's, approximately 5' 7", thin build, black hair, brown eyes, with a moustache and a patch of hair underneath his lower lip. The suspect was last seen wearing a dark grey "NEVADA" hooded sweatshirt and a blue Los Angeles Dodgers "LA" baseball cap (see pictures below).
The Sheriff's Office and the FBI urge anyone with further information regarding the circumstances surrounding this crime to contact a Sheriff's Detective at (775) 328-3320, Sheriff's Office Dispatch at (775) 785-WCSO (9276) or Secret Witness at (775) 322-4900, www.secretwitness.com, or text the tip to 847411 (TIP 411) keyword - SW.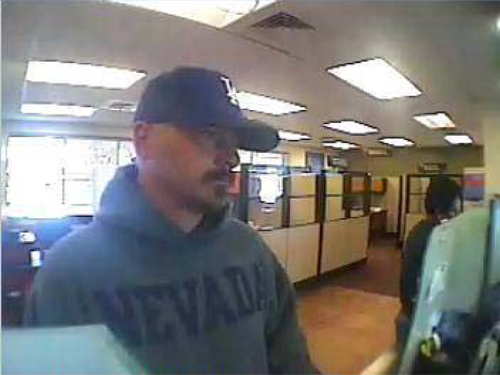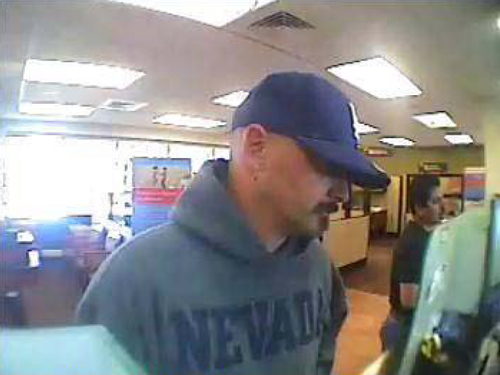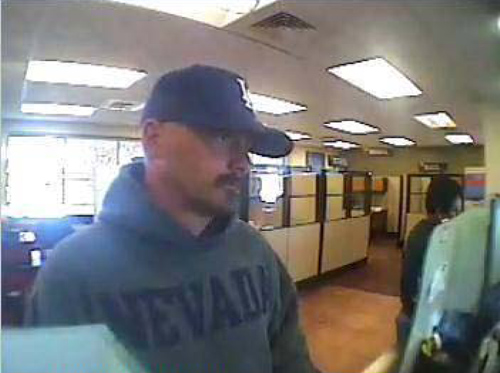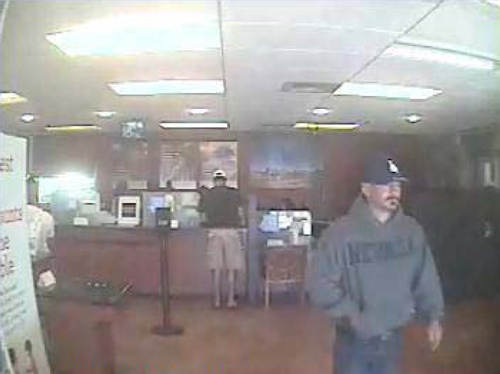 The Washoe County Sheriff's Office celebrated 150 years of proud service and community partnership in 2011. Sheriff Michael Haley is the 25th person elected to serve as the Sheriff of Washoe County. His office continues to be the only full service public safety agency operating within northern Nevada and is responsible for operating the consolidated detention facility, regional crime lab, Northern Nevada Counter Terrorism Center, Internet Crimes against Children Task Force, court security, service of civil process, traditional street patrols and Regional Animal Services.
###